QuickBooks for Mac
QuickBooks for Mac gives you tools and key features you need to grow your business all with that familiar Mac look and feel.
$184.95 – $454.95
Organize your finances with accounting software built for your Mac computer. Track your sales and expenses all in one place and get reliable records for tax time. Starting at $184.95
Your Discounted Price Will Be Shown In The Cart
Overview
Stay on top of your finances with accounting software built for your Mac computer.

Keep Track of Your Money
Easily create invoices and sales receipts to keep track of who owes you money, what they bought, and when they paid you.

Built for Mac
Keep track of important dates with iCal/Calendar integration and import Address Book/Contacts into QuickBooks.

Track Time & Expenses
With just a few clicks, you can log hours, bill clients, and add reimbursement expenses to any of your invoices.
Features
Keep track of performers
It's easy to run reports that identify your top sales performers, whether they're an employee or a vendor.
See who's paid you
The new Income Tracker shows all your transactions in one spot, including overdue invoices.
What you need faster
Customizable centers keep important customer, vendor, and transaction information at your fingertips.
See what is new in QuickBooks Mac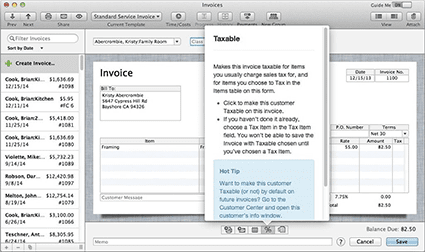 Easy to Set Up, Learn, and Use
No accounting knowledge necessary
In-product tutorials show you how to create invoices, record expense and more
Bring in your data from spreadsheets and contacts from Address Book/Contacts
Get tips, tricks and advice on using QuickBooks for Mac
Organize Everything in One Place and Save Time on Everyday Tasks
Manage vendors and expenses easily – enter, track, and pay bills
Easily create and customize estimates, invoices, and statements
Get complete and reliable records at tax time
Download your online banking transactions directly into QuickBooks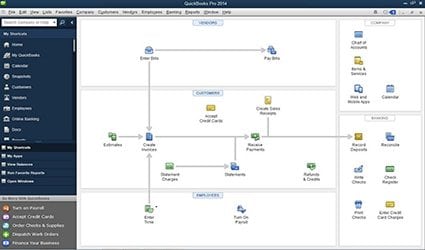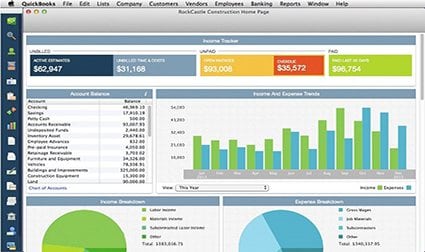 Track How Your Business is Doing and Get Financial, Tax, and Sales Reports in One Click
Get the information you need with easy-to-use reports
View and manage income and receivables using the new Income Tracker
Get a real-time snapshot of your business activities with Company Snapshot
Looks and works like your Mac
Add reminders to iCal/Calendar
Synchronize contacts with Address Book/Contacts
Export data to Numbers or Excel
What's New for QuickBooks for Mac?
Get 1-click access to what you use most. The new Left Hand Toolbar lets you create shortcuts so you can move around QuickBooks even faster than before.
Keep customer, vendor and transaction information at your fingertips. Complete tasks quickly and efficiently with enhanced Centers including customizable columns.
See who's paid you (and who hasn't). The new Income Tracker shows all your income-producing transactions in one spot, including overdue invoices so you can remind customers to pay you.
Track sales rep performance. Easily run reports that identify your top sales performers, whether they're an employee or a vendor.
Easily find the report information you need. Search text within reports to find key words and phrases.
Other things to make business easier: Adjust sales tax paid to allow for rounding, fee or discounts. Launch home page provides insights into your company's performance without running a report. Easily search text within reports to find key words or phrases.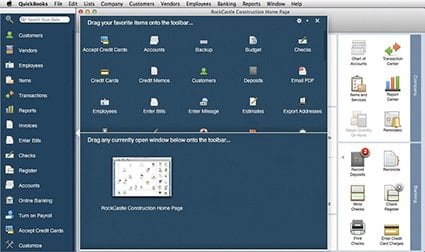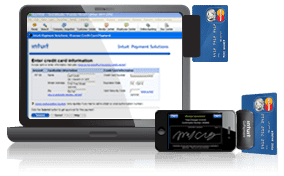 Get Paid Fast With QuickBooks Integrated Payments
Accept all credit cards as well as ACH payments (electronic checks)
Process transactions in QuickBooks, on the web and with any mobile device
Includes recurring billing and the ability to "click and pay" from emailed invoices
All transactions are automatically reconciled in your QuickBooks software
Compare
The QuickBooks lineup at a glance
Whether you're just starting out or your business is growing, there's a QuickBooks that fits your needs. Learn how different versions compare with this easy-to-use QuickBooks comparison chart.
Online Essentials
Online Plus
QuickBooks Pro
QuickBooks Premier
QuickBooks Enterprise

Save time tracking all your financial transactions

Maximum number of simultaneous users.
Up to 3
Up to 5
Up to 3
Up to 5
Available in 1-10 or 30 users
Track sales, sales taxes, and customer payments.
Yes
Yes
Yes
Yes
Yes
Accept credit card payments right in QuickBooks.
Yes
Yes
Yes
Yes
Preferred Rates
Access to product experts, unlimited technical support, and upgrades.
Yes
Yes
No
No
US-based Experts
Online backup and QuickBooks data protection
Yes
Yes
No
No
Yes
Anywhere, anytime access.
Yes
Yes
No
No
Hosting Available
Set individual user permissions to control access to sensitive information.
No
No
Limited
Limited
115 different activities
Create customized financial reports with Intuit Statement Writer.
No
No
No
No
Yes
Track fixed assets such as computers and other office equipment with Fixed Asset Manager.
No
No
No
No
Yes
Expanded list limits allow you to track 100,000+ customers, vendors, inventory items, and employees.
No
No
No
No
Yes
Work in two company files at the same time.
No
No
No
No
Yes/td>
Leverage 14 predefined user roles to help you set up new users quickly.
No
No
No
No
Yes
Complete more activities in multi-user mode.
No
No
No
No
Yes

Get the insights to make better decisions

One-click financial, sales & tax reports.
40+
65+
100
150+ Industry
150+ Industry
Import data from Excel, Quicken, Microsoft Office Accounting & prior QuickBooks versions.
Excel & QuickBooks
Excel & QuickBooks
Yes
Yes
Yes
Download or import your bank & credit transactions into QuickBooks.
Yes
Yes
Yes
Yes
Yes
Get a consolidated view into your business with Company Snapshot.
Yes
Yes
Yes
Yes
Yes
Industry-specific reports, sample files, menus & chart of accounts.
Limited
Limited
No
Yes
Yes
Track and follow up on sales leads with the Lead Center.
No
No
Yes
Yes
Yes
See all your key customer information at a glance with the Customer Snapshot.
No
No
Yes
Yes
Yes
Track international sales & expenses in multiple currencies.
No
No
Yes
Yes
Yes
Forecast sales & expenses. Easily create a business plan.
No
No
No
Yes
Yes
NEW! Access all of your QuickBooks data to create any report you need with Advanced Reporting.
No
No
No
No
Yes
Consolidate reports from multiple company files.
No
No
No
No
Yes
Create custom reports with ODBC-compliant applications using a direct connection to the QuickBooks database.
No
No
No
No
Yes

Efficiently manage inventory and pricing

Track and manage inventory and create purchase orders
Yes
Yes
Yes
Yes
Yes
Set and manage inventory reorder points.
Yes
Yes
Yes
Yes
Yes
Easily find and locate inventory tasks all in one place with the Inventory Center.
No
No
No
No
Attach Inventory Images
Manage inventory using bin location tracking, bar code scanning, serial number or lot tracking, FIFO costing and multiple location inventory.
No
FIFO
No
No
Yes
Control, customize and automate your pricing right inside QuickBooks.
No
No
No
No
Yes
Requirements
QuickBooks For Mac 2020
Mac OS® X v10.7 (Lion), v10.8 (Mountain Lion) and v10.9 (Mavericks). Contact Sync feature is disabled and does not function with Mavericks.
At least an Intel® processor, Core 2 Duo required
Minimum 2 GB of RAM, 4 GB of RAM recommended
250 MB of available disk space
Minimum 250 MB available disk space (additional space required for data files)
CD/DVD drive (or Internet connection) for installation
Printer: 100% Macintosh-compatible printer, if you plan to print invoices, checks, deposit slips, lists, purchase orders, mailing labels, reports, or graphs
Checks: Use Intuit Checks if you plan to print checks. Canadian Image Ready Cheques are not supported
Product registration required
Integration/Compatibility Requirements
Export report data requires Apple Numbers '09; Microsoft Excel 2008 or 2011 for Mac
E-mail requires Apple Mail, Microsoft Entourage 2008 or Outlook 2011 for Mac
Accepting credit and debit cards directly into QuickBooks 2020 for Mac requires Intuit Merchant Service for QuickBooks for Mac (sold separately); subject to application approval and debit card transactions are processed as Signature Debit, which does not require entering a PIN code. See this article for details.
Processing payroll, integrated with QuickBooks for Mac, requires paid subscription (sold separately), EIN and Internet access. QuickBooks 2020 for Mac works with Intuit QuickBooks Payroll for Mac
QuickBooks Payroll for Mac requires Internet connection and Adobe Reader to print checks and forms; additional fees apply
System requirements for Intuit QuickBooks Payroll for Mac and Aatrix
Top Pay may differ from those of QuickBooks. For details, visit the company websites at www.macpayroll.com and www.aatrix.com
iCal/Calendar, iChat and Address Book/Contacts are included in Mac OS X installs from Apple, Inc.
QuickBooks for Mac 2020 supports one-way conversion from QuickBooks for Windows 2012, 2013, 2014 and 2019
QuickBooks for Mac 2020 supports round tripping with QuickBooks for Windows 2020
Important: If the individual product requirements above do not specifically state that an operating system, hardware, software, firewall or antivirus is supported, it has not been tested. Intuit cannot promise that your experience will be trouble-free. If you experience problems outside of the supported environment, technical support will be limited to standard troubleshooting. If unresolved, the program should be returned to a supported environment for additional support. Also note that should Microsoft no longer support the aforementioned products, then neither shall Intuit.
Still have questions or need help? Call 866-949-7267