QuickBooks Desktop Enterprise 18.0 comes with a mélange of features specially designed to help your business grow. Some of the features in this new edition include:
Mobile Inventory Barcode Scanning
Mobile Inventory Barcode Scanning is designed to help your business speed up picking processes and minimize data entry errors. With it, you can send sales orders to employees on the floor, visit the warehouse and scan the stock, and transmit the data online. It allows you to work from anywhere and sync with your workers, provided you can connect to the web.
Improved Inventory Picking and Sales Order Management
Upgrade to 18.0 and enjoy the capability to prioritize urgent orders and have them fulfilled simultaneously from multiple warehouses. Your employees can view inventory levels on their mobile gadgets, giving them better control over the inventory. Lastly, multi-warehouse order fulfillment empowers employees to fulfil orders superfast, putting a bright smile on the face of your customers.
Priority Circle Loyalty Program
The priority Circle Loyalty Program is designed to keep in touch with customers and help them grow their business. Loyal QuickBooks members are assigned a Customer Success Manager whose task is to point you in the right direction. The manager will advise you on different aspects of your business from working within the software to how to find a specialist in your area. Furthermore, your Customer Success Manager will train you how to dig deep into the product so you can get the most out of it.
Multi-monitor Support
The upgraded 18.0 QuickBooks come with the Multi-Monitor Support feature. This feature helps your monitor to fit your working style. You can create invoices on one screen in your office while consequently creating a customer's lists on a different screen. Even better, you can pull up different company reports simultaneously on different screens and get a bird's eye view on how to improve your business.
Improved Inventory Reports
Inventory reports are crucial to a business owner as they help in making decisions that shape a business. This feature helps you generate a detailed inventory report in different areas. They include assembly shortage, inventory Valuation Summary and Inventory Stock by Item. With these customized reports at hand, you will be able to make proper decisions that will propel your business to greater heights and achieve success.
Add Up to 30 Users
Unlike many other products, QuickBooks Desktop Enterprise 18.0 has been upgraded to specifically meet the needs of a startup business. It allows a maximum of 30 users at a time, a feature that ultimately allows you to scale your business to a higher level. You can allow up to 30 of your employee's access to the system and operate on different aspects of the business with ease.
Multi-User Mode
The multi-user mode allows an operator to perform different tasks on the go. Some of these tasks include;
Inventory

adjustment

Deleting

all list

items

on the fly

Adjusting tax rates for sales

Defining

different custom fields

Setting

up the end date

Making deposit

Altering a list to a different order
User Permissions
The advanced user permission feature in the upgraded QuickBooks 18.0 allows you to set distinct access levels to specific areas of QuickBooks. This means that only employees with access to different levels of QuickBooks 18.0 will be able to carry out different specified activities including printing, modifying, viewing and deleting in specific information.
QuickBooks allows user permissions of more than 115 single user activities, which is a huge step up from QuickBooks Premier which only allowed 10 broad area activities. As the admin, you can also restrict or control access to different lists and even report by different groups predefined by their roles. This makes it efficient to assign a group of individuals' in your business to a certain task or different tasks to a single individual in a synchronized manner.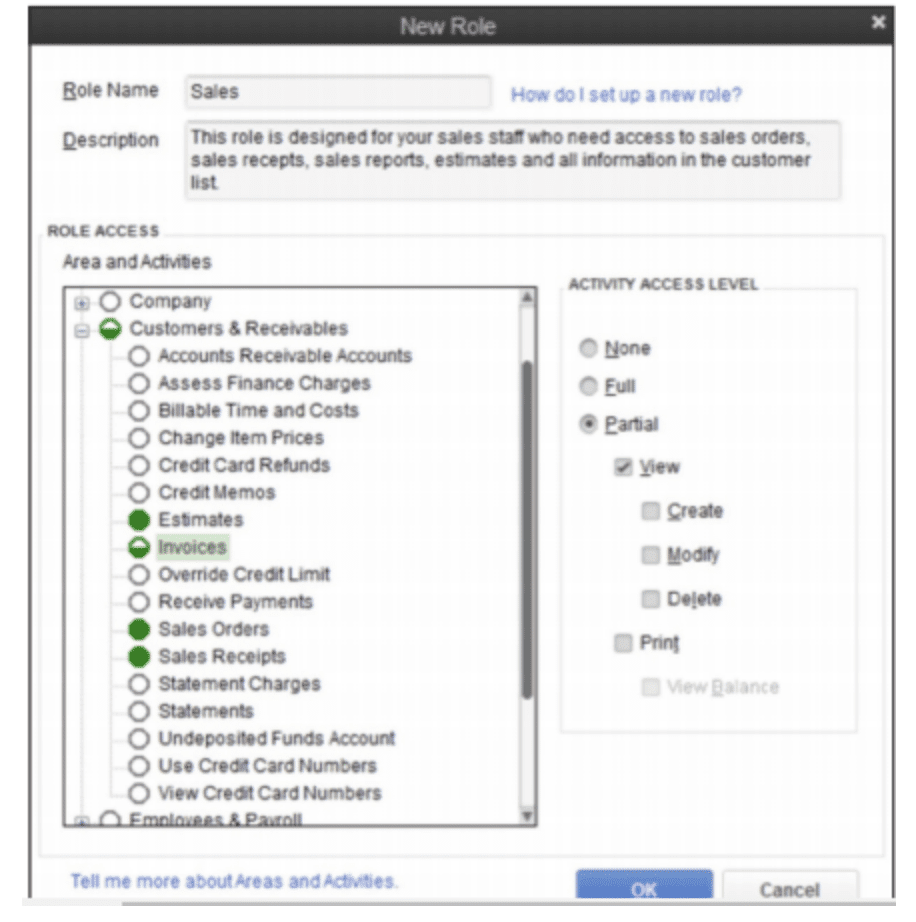 Administering/Managing Roles
With the newly upgraded QuickBooks 18.0, you can easily view the roles played by different employees in your business. This way, you can easily alter different roles to different users or even add a new role to a certain employee with a click of a button. This can be accomplished by clicking on the 'Duplicate' button found on the menu of the upgraded 18.0. With this feature, users can add new users based on their clearance levels much quicker thus saving time in building their business.
Determining User Control Levels
QuickBooks Desktop Enterprise has 14 predefined roles for users. Due to this, it's of essence that users have different access levels to only the specific roles they play. This feature allows you to get a glimpse of what role each user plays and level of access. A concise report is generated for you to see the areas, roles and activities of each user in the business. Some of the predefined roles for users include;
Accountant

Accounts P

a

yable
Accounts Receivable

Admin

Banking

External Accountant

Finance

Full Access

Inventory

Payroll Manager

Payroll Processor

Purchasing

Sales

Time Tracking

View only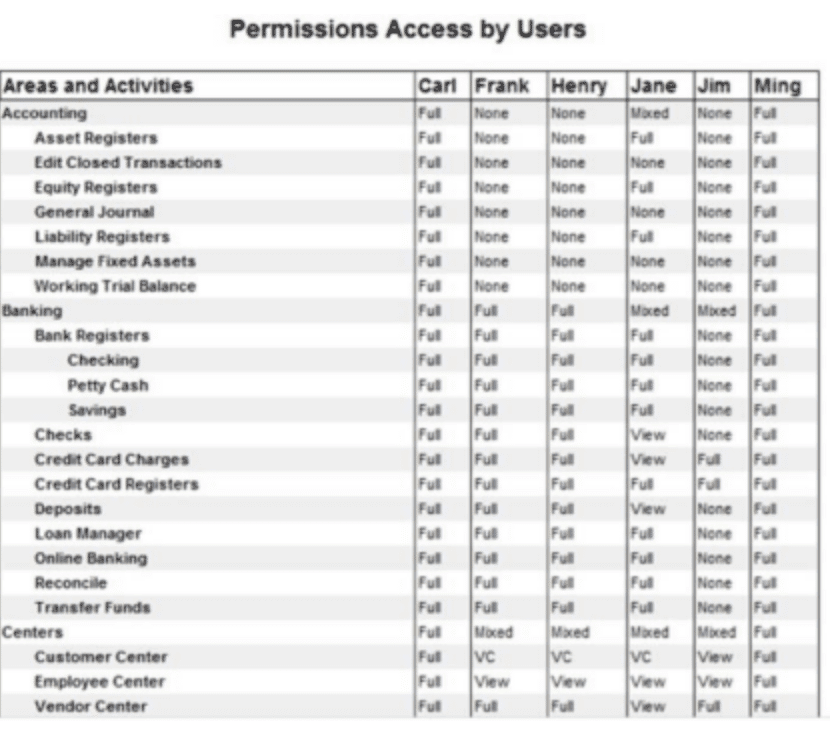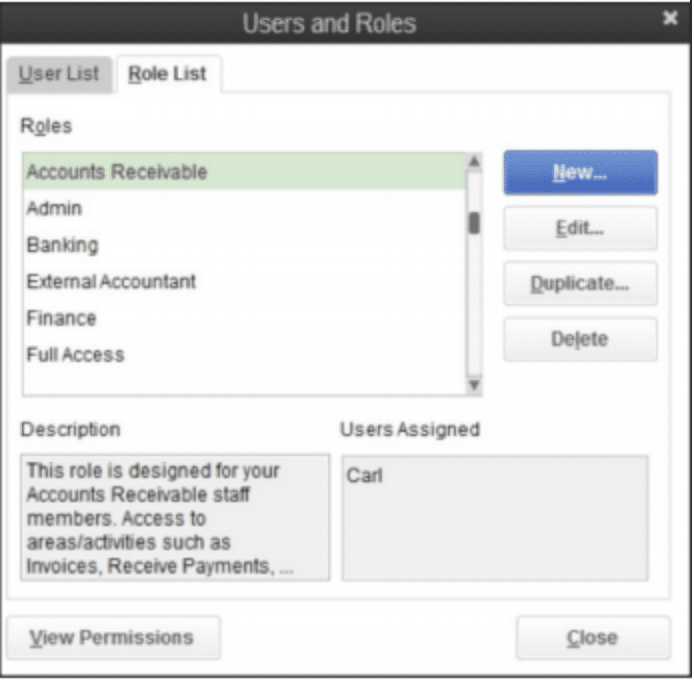 By using controls, you can adjust these predefined roles in different ways. You can create a new role from scratch, assign a single role to one or many individual and finally assign several users to a single role. These roles can be crafted to specifically meet the day to day needs of your business.
Always-On Audit Tracking
Time is essential in any growing business. Some tasks like auditing of files consume a lot of time. The newly upgraded QuickBooks 18.0 can help you keep track of these changes. This feature has been designed to have an always-on tracking system that keeps a record of any changes done from the last time it was used. This feature greatly reduces chances of employees committing fraud or even making errors when entering information to the system.
[wpcaptevrix_sscta id="0″]