QuickBooks Time
Easily track time on any device to streamline payroll, schedule jobs, send accurate invoices, and save thousands each year.
Call us at 866-949-7267 for a 30 day free trial and demonstration.
Free Test Drive
Easily track time on any device to streamline payroll, schedule jobs, send accurate invoices, and save thousands each year.
Call us at 866-949-7267 for a 30 day free trial and demonstration.
Your Discounted Price Will Be Shown In The Cart
Overview
Easily track time on any device to streamline payroll, send accurate invoices and save thousands each year.

Time Tracking
Employees can clock in or out with just one click.  Take a break, change job codes, or add timesheet details instantly.

Use Any Device
QB Time works wherever you do. Download the Android or iOS app to track, submit, and approve employee time from virtually anywhere.

Built In Scheduling
Build employee schedules by jobs or shifts. Quickly and easily edit, publish, and share the schedule with your crew.

Accounting Integration
Connect to your accounting or payroll software to automatically sync accurate employee time tracking data for payroll and invoicing.

Robust Reporting
Gain valuable business insight with real-time, interactive reports. Predict time needs for job costs, plan for payroll, and increase profitability.

Overtime Tracking
Automate overtime rules, customize pay rates, and preset complex overtime calculations for easy, accurate payroll.
Learn more about QuickBooks Time
Features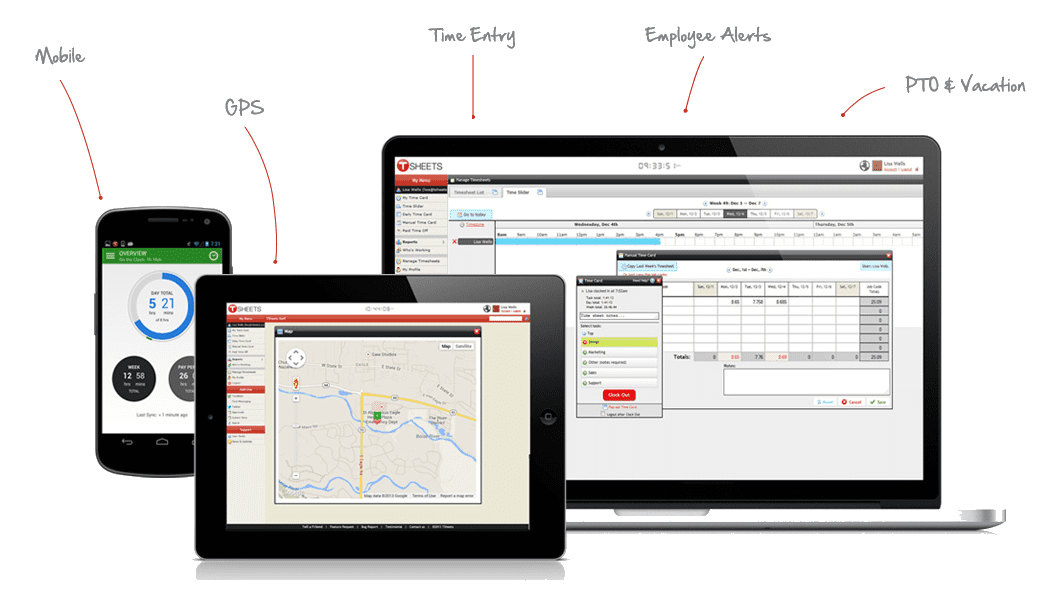 Track your employees and timesheets with ease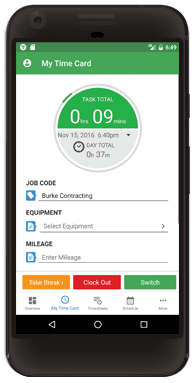 Mobile Timesheet Tracking
For employees who work remotely or switch jobs or locations regularly, there's QuickBooks Time mobile time tracking. They can use the devices that already have to track time quickly and easily, with handy clock in/out reminders, employee breaks, and overtime alerts. Employees can also clock in and out on their desktop, laptop, or mobile phone using iPhone or Android apps.  If they are out of cellular coverage, TSheets accurately tracks time and automatically syncs when back in range. Here are all the ways to track time:
Use Android or iPhone platforms
Managers can use the Crew App to clock in their entire team at once vs. individually
Use phone "Dial In" time tracking that time stamps the call
Send a text from any mobile device to track time
Tweet your timesheet from Twitter
Log time using QuickBooks Time Touch - a web app for Windows smartphone users
Easily track time and location for your mobile employee
Looking for easy-to-use time tracking with GPS for your mobile or remote employees? Using QuickBooks Time "time clock" solution for iPhone, Android, or for Crews, GPS location points are automatically attached to the individual employee timesheet when they clock in or out, change job codes, and more. Our GPS tracking even works on your Windows 8 phone.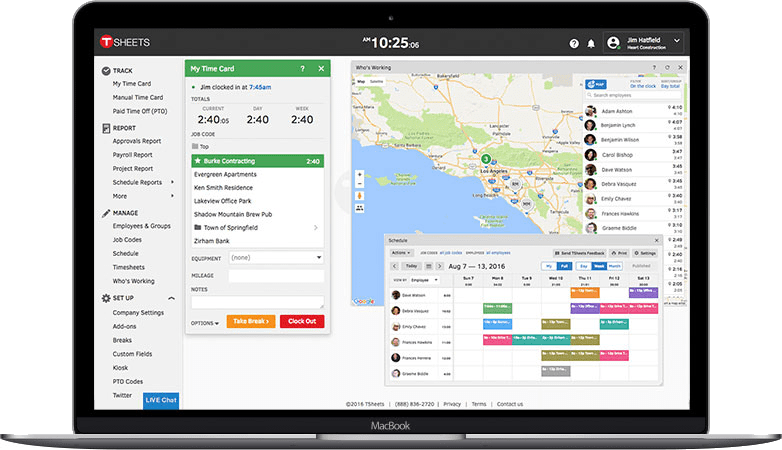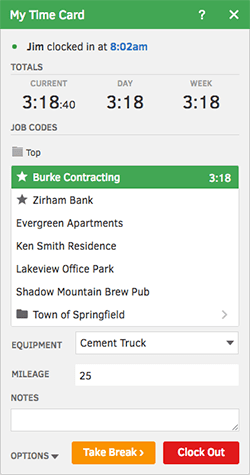 From manual to punch card time entry, it's all tracked down to the second.
Regardless of how your business would like to track and manage employee time, QuickBooks Time has a solution. Employees can clock in and out in real-time, enter their time manually, and use advanced time tracking features to customize time entry for fields, projects, and tasks. Using QuickBooks Time detailed online time tracking, multilevel job coding, and down-to-the-second time stamping, business insight has never been greater.
Easily track timesheets on-site with QuickBooks Time Kiosk
QuickBooks Time offers an easy, cost-effective alternative to traditional punch time clocks. No expensive, bulky hardware necessary! QB Time kiosk time tracking works on any device with an internet connection. You can forget complicated usernames or passwords because the QuickBooks Time Kiosk is optimized for speed with a simple 4-digit PIN, but it doesn't skimp on the advanced time tracking features you need.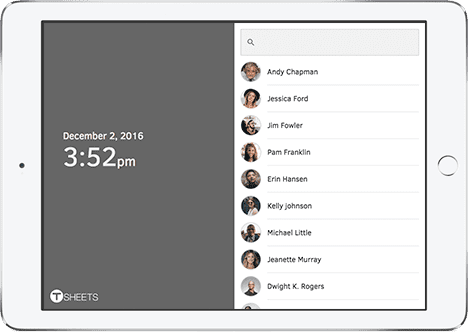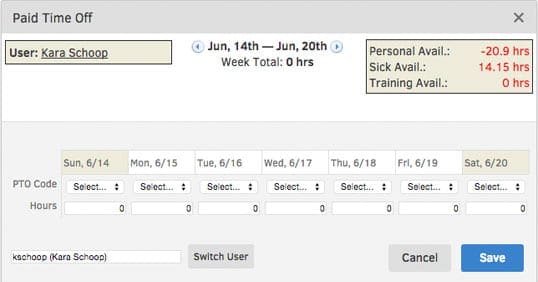 Easily Track Employee Paid Time Off
Everyone needs time off, for sick days, personal days.  By using QuickBooks Time for tracking employee hours and managing employee PTO, employees can request time off directly from the mobile time tracker app, and managers can approve the request just as easily.
See how easily you can remind employees to clock in/out
Simply and tactfully remind your employees to clock in and out with automatic reminders, and enjoy an increase in employee time tracking compliance of up to 99 percent. Save on costly overtime by taking advantage of customizable overtime alerts that notify managers and employees as daily or weekly limits approach.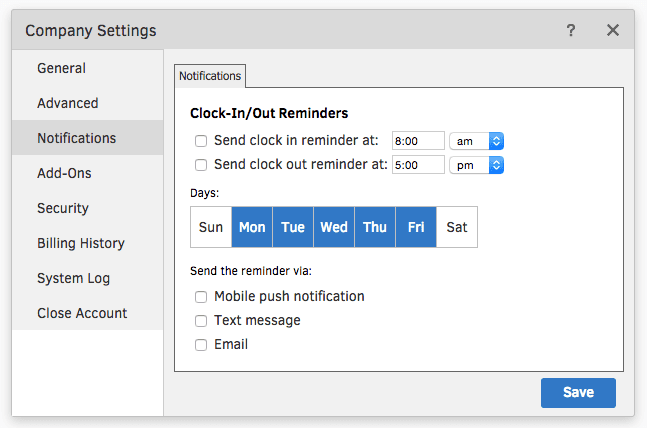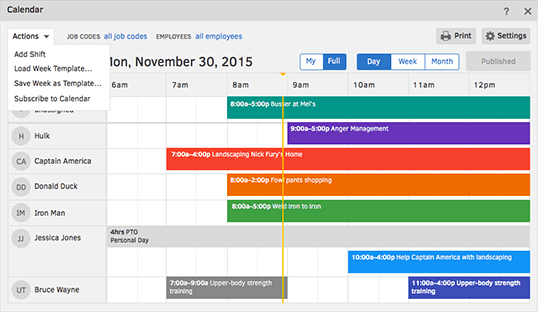 Employee scheduling made faster, easier, and more convenient
It's time to retire Excel and your whiteboard for scheduling that's easy to use and easy to love for employees and managers alike. Whether using the job scheduling or shift planning functions, QuickBooks Time scheduling works hand in hand with time tracking. Create and edit a schedule in minutes, see who's working in real-time (so you know who's available to take a job), notify employees of schedule changes and assignments with text, email, or push notifications, and get alerts if employees haven't clocked into a job or shift as scheduled.

 
Free Trial
Start your free trial today! See the difference QuickBooks Time makes.
No credit card. No commitment. Just a few quick questions to set up your trial or you can call us at 866-949-7267 for a live demo.
Still have questions or need help? Call 866-949-7267