For small to medium-sized businesses (SMBs) looking for a locally installed accounting software, QuickBooks Desktop is their go-to solution. However, they have a further decision to make, as QuickBooks Desktop comes in several packages at different pricing levels. QuickBooks Desktop used to have three versions (Pro, Premier, and Enterprise), but Pro is no longer available since May 2022, leaving businesses with two choices. 
So, which QuickBooks Desktop product is right for you in 2023? We compare QuickBooks Premier and Enterprise to help you decide.
Premier vs Enterprise: Quick Comparison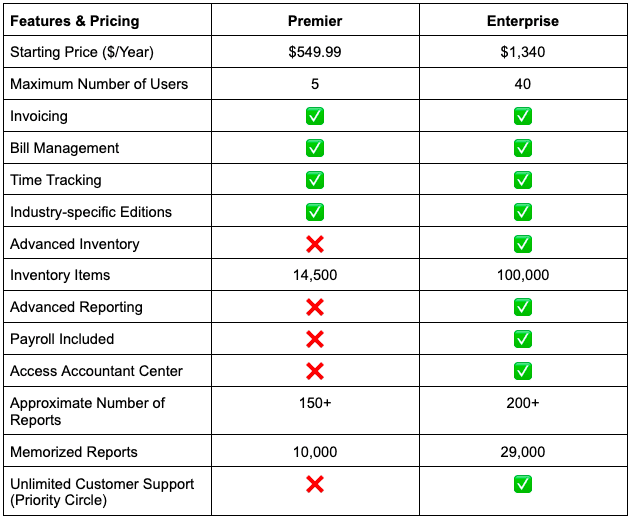 What's Included in Premier?
Premier includes the core accounting features of QuickBooks Desktop, including inventory and sales management, invoicing, and accounts payable (A/P) management. Forecasting and budgeting by product type or customer are also included, allowing you to better plan your budget.
Time-saving features like batch invoicing are supported, including a sales order management module that allows you to hold an order until you are ready to invoice against it. For project-based businesses, you can bill clients by percentage of completion, which is useful if you are working on long-term projects and need to invoice your clients for a percentage of the work completed during the period.
On the downside, Premier has several missing features that are offered when you upgrade to Enterprise. For instance, while it has an inventory accounting system that lets you track the availability of stock and set re-order levels, you can't perform advanced inventory tracking, like tracking by location and bin and using a barcode scanner.
How is Enterprise Better than Premier?
One reason to choose Enterprise over Premier is that you need many people to use the software. QuickBooks Premier only supports up to five users, while Enterprise Diamond allows you to add up to 40 users. This makes Enterprise an ideal choice for businesses with multiple salespeople that need access to your inventory and the ability to record billable hours.
However, there are other reasons to consider Enterprise. For instance, while Premier can only record up to 14,500 inventory entries, Enterprise allows you to add over 100,000 items, making it a great option for those with multiple customers, vendors, and employees.
With QuickBooks Enterprise, you'll get essential upgrades, including the ability to:
Create advanced reports and customized finance statements
Track fixed assets, like equipment and vehicles
Use barcode scanning to track inventory
Set up unlimited discount rules to customize pricing
Track landed costs, such as freight, insurance, and custom duties
Generate GAAP-compliant financial reports
Receive unlimited technical support
Calculate inventory using the First-in, First-out (FIFO) method
Bottom Line
QuickBooks Premier and Enterprise are both great desktop accounting solutions for small businesses. If you only need a few people to use your accounting software and don't have complex inventory, consider Premier. However, if you have more products or projects and employees and you operate in multiple locations, QuickBooks Enterprise can make inventory tracking much easier.