If you're using QuickBooks Online Advanced, you can further improve your workflows and increase your productivity by connecting your software to a growing suite of premium apps and purpose-built integrations. These integrated apps help small to medium-sized business owners manage every aspect of their accounting and financial management processes.
We rounded up our top picks for the best QuickBooks Online Advanced integrations that make bookkeeping, reporting, payroll, and other business operations easy.
Bill.com

With QuickBooks Online Advanced and Bill.com integration, you'll gain more control over your accounts payable (A/P) process by creating customized workflows for faster bill pay approvals. When you connect Advanced to Bill.com, all of your bank account information, including your customers, vendors, invoices, and book balance, sync with QuickBooks. This allows you to automate approvals, set up payment schedules, and set reminders while keeping your books accurate. 
LeanLaw

While QuickBooks Online is highly customizable to almost any industry, it doesn't have legal-specific accounting features, such as triple account reconciliation and Legal Electronic Data Exchange Standard (LEDES) billing—which is the standardized invoicing format among law firms. Advanced integrates with LeanLaw to develop a powerful legal timekeeping, billing, and accounting solution that allows you to manage Interest on Lawyer Trust Accounts (IOLTA) accounts, reconcile trust balances, and generate legal-specific accounting reports.
HubSpot

If you need a customer relationship management (CRM) software to help you better manage your interaction with customers and leads, then you should integrate Advanced with HubSpot. With QuickBooks Advanced and HubSpot, you'll be able to track all the information you need about your leads and customers in one place. HubSpot is a great QuickBooks integration as it allows you to sync your CRM and accounting software to boost the sales cycle, helping sales and marketing teams work better together.
Salesforce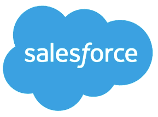 Available only for QuickBooks Advanced users, Salesforce integration allows you to connect your CRM and business accounting solution to gain more insight into your business and cash flow. It brings your sales and finance teams together to ensure that information between expenses, invoices, and accounts are accurate and consistent. With Salesforce, you can also share data, including customer information, expenses, sales orders, and expenses.
DocuSign

QuickBooks Online itself has no document management features, but it integrates with DocuSign to help you manage digital documents. With DocuSign, you'll be able to easily create, sign, and send digital documents from within your QuickBooks Online Advanced account. The DocuSign eSignature Connector lets your teams track down signatures from employees, clients, and other team members if needed.
Although QuickBooks Online Advanced is powerful, it is not a complete business solution. This is where integrations come in. From automating your workflows to improving your productivity and efficiency, QuickBooks Online Advanced offers best-in-class integrations to get started.