Both QuickBooks Online and NetSuite can help you automate different accounting workflows, such as accounts payable (A/P) and accounts receivable (A/R) management, banking and cash management, and inventory. However, each software program has some distinct features that are designed to support unique business needs.
Let's go over the key differences between QuickBooks Online and NetSuite so that you can decide which accounting software is right for you.
What is QuickBooks Online?
QuickBooks Online is a popular cloud-based accounting software that helps small to medium-sized businesses manage various accounting tasks, such as inventory management and profit and loss (P&L) tracking by class and location. QuickBooks Online comes in four pricing plans each with a certain number of users included. While QuickBooks Online has no industry-specific features, it can be easily customized to meet the diverse needs of different businesses in different industries.
Learn the benefits of QuickBooks Online to see if it's the right accounting software for you.
What is NetSuite?
Netsuite is a cloud-based Enterprise Resouce Planning (ERP) and accounting solution that helps large enterprises expedite departmental workflows, like planning, purchasing, marketing, and sales. NetSuite offers specialized solutions for different industries, such as wholesale and distribution, manufacturing, and professional services.
QuickBooks Online and NetSuite Comparison: At a Glance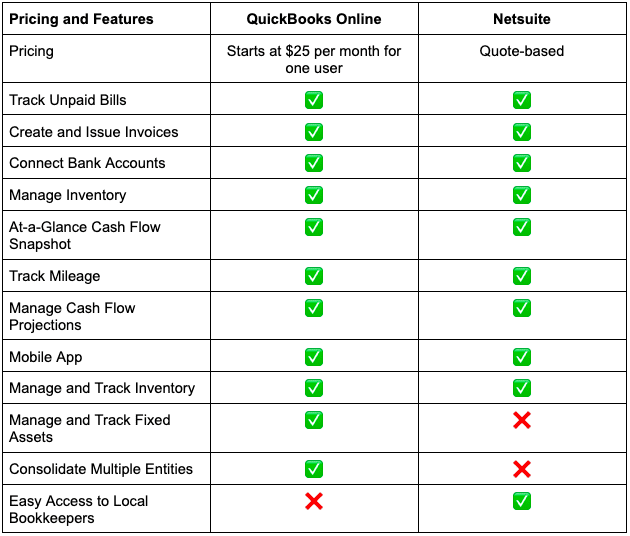 When is QuickBooks Online Better?
In terms of pricing, QuickBooks Online is preferable as it has a detailed pricing structure with different pricing plans to choose from based on your budget and the number of users you need. For instance, if you are a solo business owner who's just starting out, then QuickBooks Online Simple Start might be enough. If you require multiple users, you should consider QuickBooks Online Advanced, which allows up to 25 users and has more features for automating workflows. Discover why many businesses choose QuickBooks Online Advanced.
Another reason to choose QuickBooks Online is that it is easier to use than NetSuite. While both programs are generally intuitive, NetSuite has more advanced features and options that it may take time to master them. QuickBooks Online has a more streamlined interface with a customizable dashboard. If ease of use is essential to you, QuickBooks Online might be better.
QuickBooks Online might also be better for businesses that often require bookkeeping support. QuickBooks is a very popular accounting program with a vast network of QuickBooks ProAdvisors. Since many accountants and businesses use QuickBooks Online, it will be easy for you to find a local bookkeeper who can provide the right bookkeeping support for your business. With NetSuite, you have to find an external bookkeeping company which can be difficult and expensive.
When is NetSuite Better?
If you want a robust accounting software and ERP solution combined, then you should consider NetSuite. It's an ideal choice for larger enterprises that need more advanced features, like fixed asset management and separate inventory modules for supply chain management and warehouse management. If your business carries a large inventory, then NetSuite might be a better option.
QuickBooks Online lets you track fixed asset purchases, but you have to calculate depreciation expenses from outside the program and you need to manually input them as a journal entry. NetSuite includes a dedicated module that automates the process of tracking depreciation expenses, asset values, and the useful life of an item.
NetSuite is more of an all-in-one solution as it integrates ERP, CRM, and eCommerce features in a single platform. This means you don't have to purchase and use separate business apps to manage the important aspects of your business.
Which Accounting Software Should I Use?
Whether QuickBooks Online or NetSuite is better depends on your budget, the size of your business, and the kind of functionality that you need. If you are a small or medium-sized business that needs a solid accounting solution with the ability to track profit and loss by class and location, then QuickBooks Online is great. If you are a large enterprise that tracks heavy inventory and fixed assets, then NetSuite might be preferable.