If you are in the manufacturing and supply chain industry, you should consider QuickBooks Desktop Enterprise Platinum. Platinum is the mid-range edition of QuickBooks Desktop Enterprise, offering all of the features included in Gold, in addition to advanced inventory and advanced pricing.
Benefits of QuickBooks Desktop Enterprise Platinum
✅ Enhanced inventory management for businesses with multiple inventory locations
✅ Can create personalized pricing to improve overall business productivity
✅ Creates highly customizable reports to track business performance
✅ Includes Enhanced Payroll which is great for business owners that file tax payments by themselves
✅ New version includes customizable workflow for accounts payable to boost transparency
Who QuickBooks Desktop Enterprise Platinum is Great For
QuickBooks Desktop Enterprise Platinum is ideal for large enterprises dealing with advanced inventory management and those who are looking for flexibility in their pricing structure. The most notable features you can find in QuickBooks Desktop Platinum are advanced pricing and advanced inventory which are useful for wholesalers, distributors, and most small product-based business owners.
Who QuickBooks Desktop Enterprise Platinum is Not Good For
We don't recommend QuickBooks Desktop Enterprise Platinum for enterprises with a large employee workforce, especially those who don't have in-house tax professionals to file tax payments for them. Just like the Gold edition, Platinum includes a subscription to Enhanced Payroll, a self-service option, which is great if you file your own tax payments or you have in-house accountants to do it for you.
However, if you're not okay with DIY tax filing, we recommend that you upgrade to Diamond instead. QuickBooks Desktop Enterprise Diamond includes the Assisted Payroll program, where QuickBooks will pay and file tax payments on your behalf. There are many other benefits of QuickBooks Desktop Enterprise Diamond, such as QuickBooks Time Elite and flexible user options.
QuickBooks Desktop Enterprise Platinum Key Features
QuickBooks Desktop Enterprise offers a wide range of features, including invoicing, accounts payable and accounts receivable, contact management, and advanced reporting. The Platinum edition, to be specific, includes special features, including:
Advanced Pricing
Business owners know how crucial it is to set the right pricing for their organization. With QuickBooks Enterprise Platinum, you can automatically adjust the prices of every product you sell based on the price rules you create. Price rules allow you to be more detailed in terms of your pricing. For instance, if you want your top five customers to receive a 5% discount (condition 1), if they purchase 10 or more (condition 2) of a certain item (condition 3), you can create a pricing rule with these three conditions.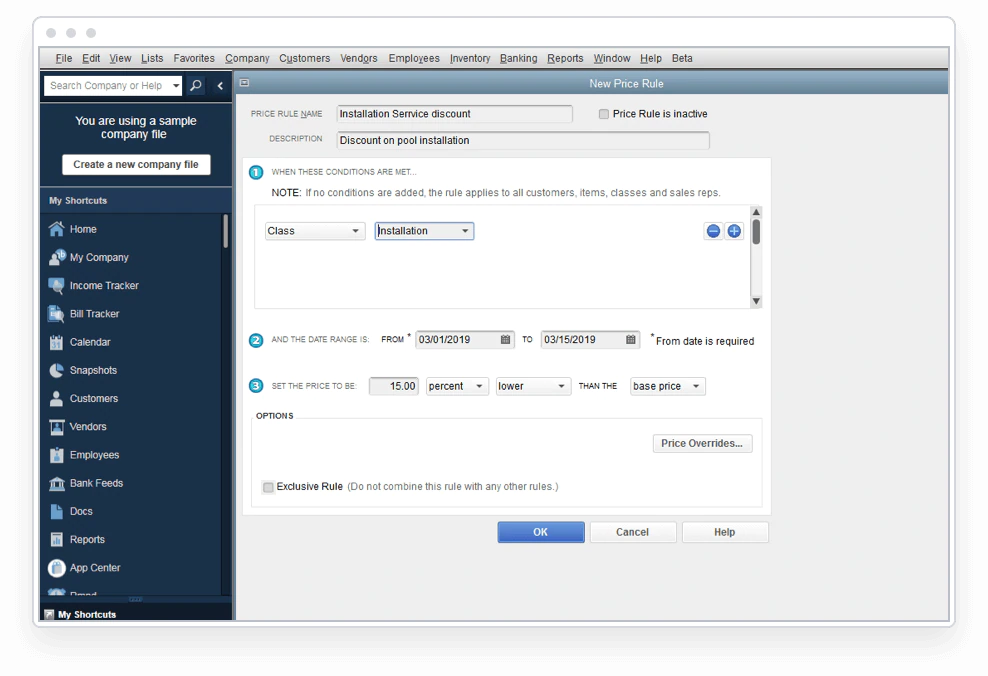 Advanced Inventory
QuickBooks Enterprise Platinum touts advanced inventory management features which are great for businesses with multiple inventory locations. Using Advanced Inventory, you can track inventory parts by bin, lot, or serial number, calculate inventory cost using the first-in, first-out (FIFO) method, scan bar codes, generate orders to move inventory from one location to another, and more.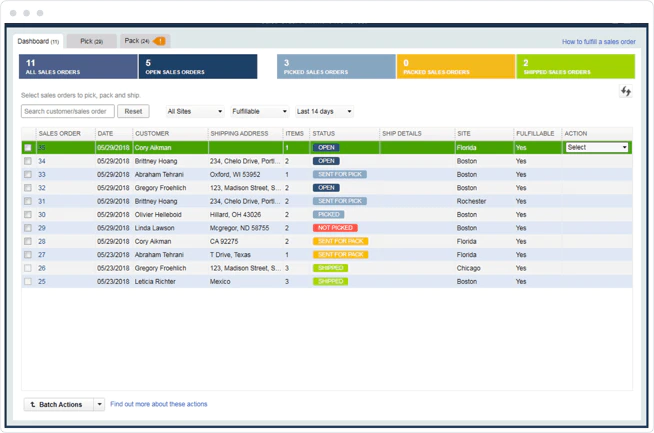 Enhanced Payroll
Enhanced Payroll allows you to pay your employees or contractors by check or direct deposit. QuickBooks will automatically calculate employees' applicable earnings, deductions, and tax payments. It gives you access to all the tools you need to electronically pay and file your tax returns. You can even use it to track employee benefits, paid time offs, and insurance details. QuickBooks Enhanced Payroll is a self-service option, which means you have to pay and file your taxes by yourself.
Accounts Payable Workflow Approval (New Feature)
This new feature helps you set up a customized approval process for receiving bill payments from your vendors or suppliers. Using this feature, you can assign an approval workflow to an authorized employee for bill and purchase orders. From a single dashboard, you can easily track which bill needs approval before it can be paid. The delegated approvers will be notified of the real-time status of vendor bills. Having an established bill and purchase order workflow improves transparency and helps you manage your cash flow better.
Bottom Line
Overall, QuickBooks Desktop Platinum is worth your money if you're dealing with complex inventory management. Whether you are a small business with five users or a large enterprise with up to 40 users, you can benefit from QuickBooks Desktop Enterprise Platinum to automate your inventory management tasks, improve your pricing structure, and streamline the way you receive bills from your vendors and suppliers.