QuickBooks Online provides a powerful toolset that streamlines the sales process through its customizable sales forms. These forms, such as invoices, sales receipts, and estimates, play a vital role in capturing and documenting sales transactions.
In this article, we will discuss the benefits of customizing sales forms in QuickBooks Online and guide you through the process of how to customize these forms, whether it's an invoice, sales receipt, or estimate.
What are sales forms in QuickBooks Online?
Sales forms in QuickBooks Online are the various documents that businesses use to record and track sales transactions. These forms serve as essential tools for documenting and communicating sales-related information to customers and for maintaining accurate financial records. QuickBooks offers several types of sales forms, including invoices, sales receipts, estimates, and credit memos.
Benefits of Customizing Sales Forms in QuickBooks
Customizing sales forms in QuickBooks is essential to establish your brand identity, promote consistency, and meet the unique needs of your business. Off-the-shelf templates may not align perfectly with your branding, and a generic appearance can undermine your professionalism. By customizing sales forms, you can:
Reinforce Brand Identity: Incorporate your company logo, color scheme, and font choices to align the sales forms with your brand identity. Consistency across all customer-facing documents creates a cohesive and memorable impression.
Enhance Professionalism: Tailor sales forms to showcase your professionalism and attention to detail. By customizing headers, footers, and layouts, you can create visually appealing forms that reflect your commitment to excellence.
Capture Relevant Information: Customize fields and columns to capture specific information relevant to your business. You can include custom fields for project references, special instructions, or unique customer details, ensuring accurate and comprehensive records.
Comply with Legal Requirements: Customizing sales forms enables you to incorporate legally required information, such as tax identification numbers, terms and conditions, or specific disclosures mandated by local regulations.
How to Customize Sales Forms in QuickBooks
First, click on the gear icon and then select Custom form styles under Your Company. From the Custom form styles page, you'll see a standard sales form that QuickBooks uses as the default sales form. To create a new template that you can customize, click the New style dropdown arrow, and then select the template you wish to create, as shown below.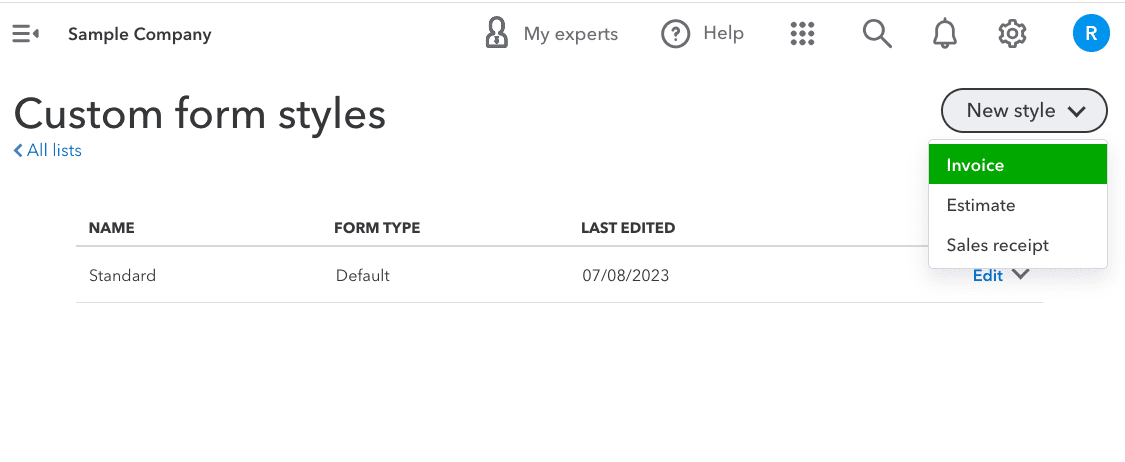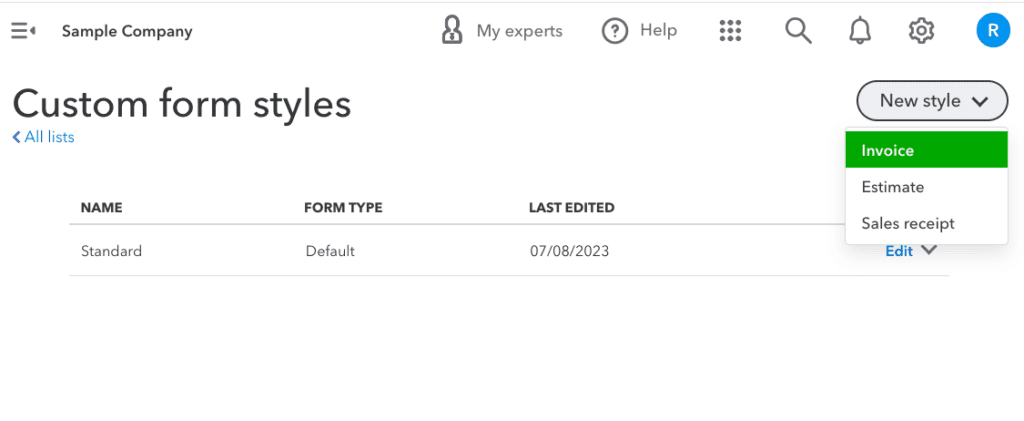 Preparing to create a new sales form template in QuickBooks
For instance, if want to create an invoice, click the Invoice dropdown. Next, the customization page appears, which shows three tabs to customize your sales form: 
Design: This option allows you to choose the template you wish to use for the invoice, upload your company logo, customize the font, and apply print settings.
Content: This is where you can customize the content of your invoice, including the headers, specify which columns to show up and add a personalized message for your customer.
Emails: This option allows you to control how your invoice appears in emails. For instance, you can select whether to show the full invoice details or summarized details. You can also edit the content of your email under the Emails tab.
Invoice customization tab in QuickBooks Online
Once you're satisfied with your template, click on Done to save the sales form. If you wish to see what the form looks like before saving it, simply click the Preview PDF button. Below is a sample invoice template created in QuickBooks Online.
Sample invoice in QuickBooks Online
For more detailed instructions on how to customize invoices, watch the video below.
Customizing sales forms in QuickBooks Online provides businesses with many benefits that contribute to their overall success. By tailoring sales forms to align with their brand identity, businesses can establish a consistent and professional image, enhancing brand recognition and customer trust.