QuickBooks Desktop Enterprise is one of the most popular accounting software, and the Diamond package is its most powerful edition. QuickBooks Desktop Enterprise Diamond offers a robust set of tools to automate various business processes, including time tracking, payroll, and customer relationship management (CRM). Its most notable features include advanced pricing, advanced inventory, and QuickBooks Time Elite.
Wondering if QuickBooks Desktop Enterprise is right for you? Check out the benefits of QuickBooks Desktop Enterprise before we walk you through QuickBooks Desktop Enterprise Diamond.
Who Should Use QuickBooks Desktop Enterprise Diamond
QuickBooks Desktop Enterprise Diamond is designed for large businesses with up to 40 users. It's best for product-based businesses that spend a lot of time managing inventory in multiple locations. Enterprises with a large employee workforce will also find the Diamond package useful. It includes an assisted payroll feature that allows you to pay your employees in a few minutes and save yourself from the stress of tax filing. Employee timesheets can be easily tracked using QuickBooks Time Elite.
QuickBooks Desktop Enterprise Key Features
Advanced Pricing
With QuickBooks Desktop Enterprise Diamond, you have the option to customize your prices for a particular customer. You can customize your pricing rules with conditions based on quantity, items, date range, customer, and sales representative. It also enables you to set up quantity discounts, manufacturer markdowns, and promotions. If you're selling taxable products, you'd be glad to know that QuickBooks Desktop Enterprise Diamond automatically tracks sales taxes.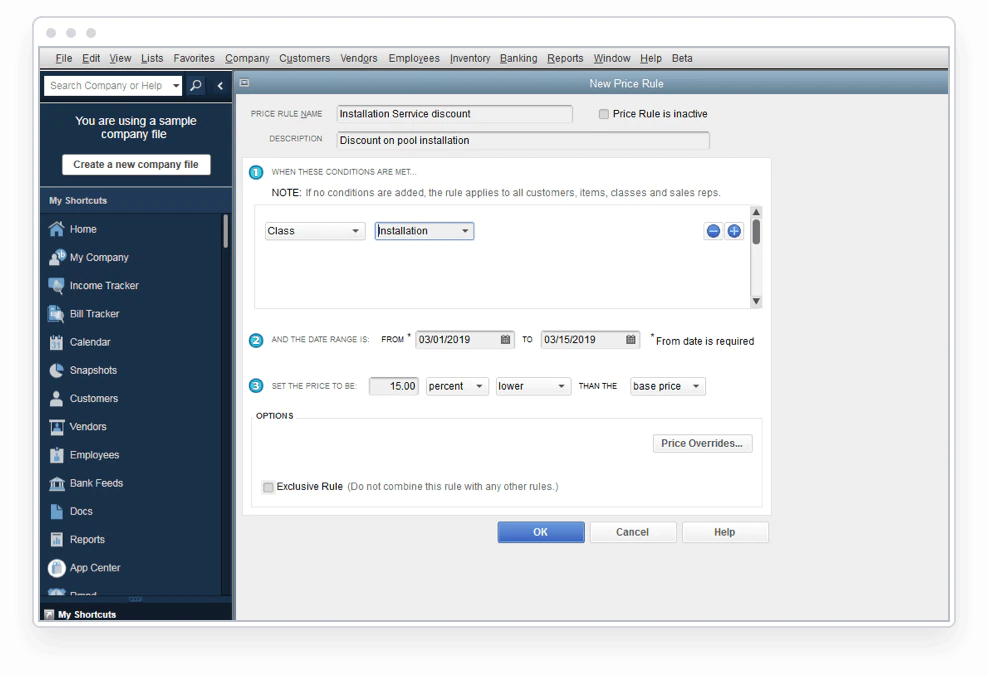 Assisted Payroll
QuickBooks Desktop Assisted Payroll comes with the purchase of the Diamond package. Assisted Payroll allows you to pay your employees with printed checks, next-day direct deposit, or both. However, that's not the only thing it does. The best part about QuickBooks Desktop Assisted Payroll is that QuickBooks will handle all your federal and state tax filing, including year-end reporting. On top of that, it also comes with a tax penalty guarantee—QuickBooks will pay any late filing penalties.
Advanced Inventory
The best thing about inventory management in QuickBooks Desktop Enterprise is that you can assemble your inventory items in builds without the need to manually adjust the inventory counts. This feature is available in all plans of QuickBooks Desktop Enterprise. The Platinum and Diamond editions take it one step further by allowing you to manage your inventory items in multiple locations and adjust pricing rules easily.
QuickBooks Time Elite
QuickBooks Desktop Enterprise Diamond includes the enhanced version of QuickBooks' built-in time-tracking software, QuickBooks Time Elite. With QuickBooks Time Elite, your employees can enter their working hours from anywhere using the QuickBooks mobile app. QuickBooks Time Elite has advanced features not included in the QuickBooks Time Premium plan, including the ability to create project estimates, add timesheet signatures, and track time using geofencing.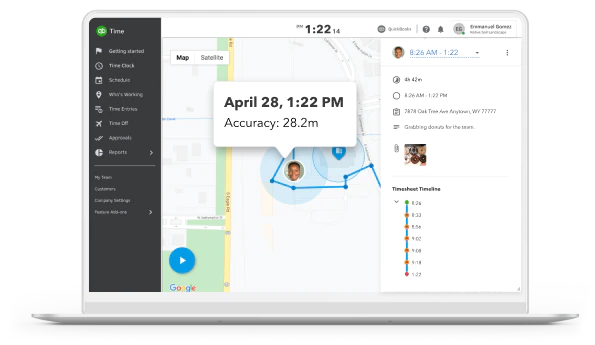 Industry-Specific Editions
QuickBooks Enterprise comes in a standard business edition and five industry-specific editions: construction and contractors, manufacturing and wholesale, professional services, non-profit, and retail and commerce. Simply choose an industry that you want to install, and you can start using its industry-specific features.
Salesforce CRM Connector (Optional)
QuickBooks integrates with Salesforce CRM to help you get a detailed view of how your business is performing. This integration allows you to share data between your sales and accounting teams, such as sales orders, expenses, and invoicing. This helps you improve productivity and generate more insights to help you make informed business decisions.
QuickBooks Priority Circle
When you subscribe to QuickBooks Desktop Enterprise Diamond, you will be a premium member of QuickBooks' VIP customers. QuickBooks Priority Circle members are assigned a dedicated account team to provide answers to all their questions and help them get the full benefit of QuickBooks.
What We Like About QuickBooks Desktop Enterprise Diamond
✅ Most powerful QuickBooks Desktop Enterprise package
✅ Includes QuickBooks Time Elite and assisted payroll
✅ Advanced inventory management features
✅ Advanced pricing helps you customize prices
✅ Includes premium support
Bottom Line
If you need a reliable solution for managing complex inventory and pricing rules, then QuickBooks Desktop Enterprise Diamond is for you. Most of its features are labeled "Advanced" because they bring in a lot of customization options and end-to-end solutions that help you streamline your various business workflows. If you are looking for an accounting platform that allows you to automate processes and handle everything start to finish, QuickBooks Enterprise Diamond is a great deal.