QuickBooks Time (formerly TSheets) is a cloud-based time-tracking software that allows you to create employee schedules and track the time each employee spends on a task or project. Some of its key features include time and attendance tracking, geofencing, GPS tracking, and a mobile app. QuickBooks Time keeps a separate timesheet for each employee and provides them with multiple options to clock in and clock out. You can manually enter time within the web dashboard, mobile app, or clock in via the time clock kiosk.
QuickBooks Time Key Features
QuickBooks Time has a robust set of features and tools that helps you track time and create employee schedules. Below is a quick rundown of QuickBooks Time's most notable features:
Clock In and Clock Out
Employees can clock in and clock out in three ways: web dashboard, mobile app, and kiosk. Whatever method you use, QuickBooks Time lets you see the actual hours an employee spent on a task or project in real-time, the total number of hours for the day, and the total number of hours for the week. For remote workers, we recommend tracking time via the mobile app. The app is available for Android and iOS users.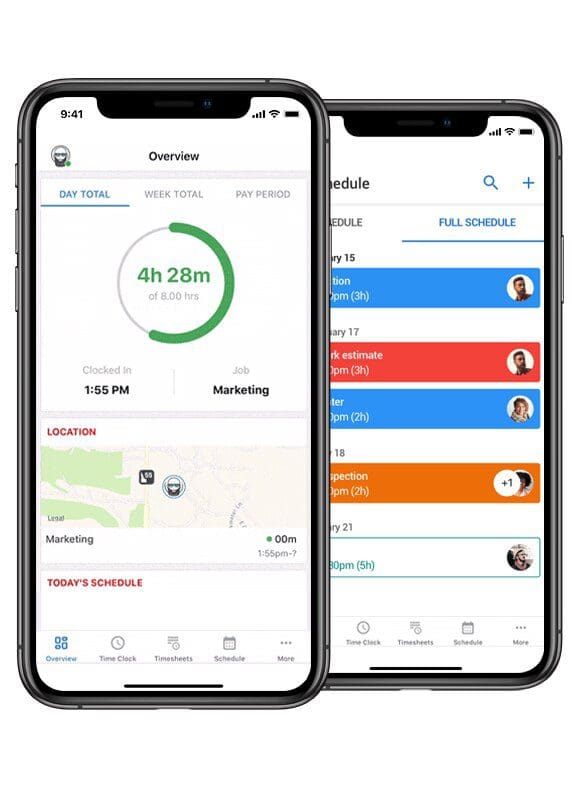 Time Kiosk
A time kiosk is a tablet-based time tracking tool that enables employees to punch in their time using a unique 4-digit pin. This feature provides an additional layer of security for workforces as it uses facial recognition scanning. The downside to the time kiosk is that it can't be used on a mobile app—you can only use it on a desktop, laptop, or tablet.
Who's Working
This feature lets you track which among your employees are on the clock, which location they are at, and what tasks or projects they are working on. This tool is customizable so you can choose which employees you want to see.
PTO Tracker
Using the web dashboard or mobile app, you or your team manager can request a time off as well as check PTO balances. Managers can create customizable notifications through email and text alerts, so employees can instantly see whether their request has been approved or denied.
Employee Scheduling
QuickBooks Time allows you to create schedules by projects, tasks, or shifts, set up recurring schedules with a single click, and make adjustments to existing schedules on the fly. QuickBooks Time will send an alert to employees via their mobile devices about any changes in their schedules.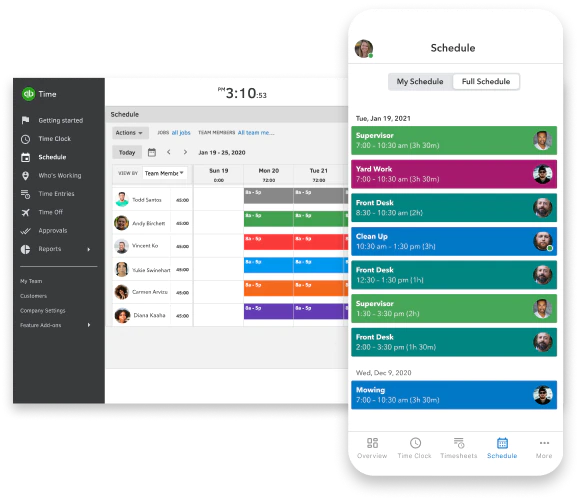 Project Time Tracking
You can use QuickBooks Time to track how many hours your employee spends on specific tasks or projects (both estimated and actual). You can add project notes and digital signatures to your employee's timesheets. This feature is available for Elite users.
Geofencing
Geofencing helps remind your employees to punch in and out their time from the job site they arrive at or depart. Most time tracking programs offer geofencing, but QuickBooks Time takes it one step further by allowing you to track your employee's locations in real-time.
GPS Time Tracking
QuickBooks Time's GPS time tracking makes it easy for you to locate your offsite workers. Once they clock in, the app logs their location in real-time and provides updates throughout their work shifts.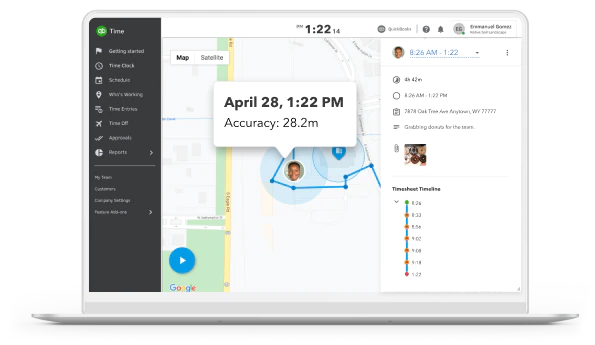 Mileage Tracking
Available in the Elite plan, this feature allows you to record your business drives for employee reimbursement or tax purposes. You can easily track mileage using the QuickBooks mobile app.
Benefits of QuickBooks Time
Just like other time tracking software, QuickBooks Time has strengths and weaknesses. The pros and cons below will help you gauge if QuickBooks Time is for you or if you need to look elsewhere.
What We Like About QuickBooks Time
✅ Can clock in and clock out from the web, mobile app, or kiosk
✅ You can get a free trial with no credit card required
✅ Geofencing ensures employees are clocking in and out from the designated locations
✅ Uses GPS tracking to get a real-time view of your team's locations
✅ Free, unlimited support online and over the phone
Interested in QuickBooks Time?
If you're ready to enjoy the benefits of QuickBooks Time, or would like a free trial, contact us online or call 866-949-7267. We have the right resources to help you purchase QuickBooks Time, and we'll answer any questions you may have.