Sales order fulfillment is a feature in QuickBooks Enterprise that allows you to track and fulfill customer orders from start to finish. This feature is designed to streamline the sales order process, increase efficiency, and reduce errors. With sales order fulfillment, you can easily create, manage, and fulfill sales orders, generate packing slips and invoices, and track inventory levels.
In this article, let's discuss the sales order fulfillment feature in QuickBooks Enterprise, how to use it, and how it can benefit your business.
What is Sales Order Fulfillment in QuickBooks Enterprise?
Sales order fulfillment in QuickBooks Enterprise involves several steps, including picking and packing the ordered items, preparing them for shipment, and ultimately delivering the items to the customer.
For example, a business that sells clothing receives a sales order from a customer for a shirt and a pair of pants. The business then retrieves the shirt and pants from inventory, packs them into a shipping box, and prepares a shipping label. The box is then shipped to the customer's address.
In QuickBooks Desktop, the sales order fulfillment process can be tracked using the Sales Order Fulfillment Worksheet, which allows users to view the status of sales orders and track inventory levels in real time. This feature can help businesses ensure that customer orders are fulfilled accurately and on time, while also enabling them to manage their inventory effectively.
Here are the steps involved in the sales order fulfillment process in QuickBooks Enterprise.
Creating Sales Orders
To create a sales order in QuickBooks Enterprise, you need to go to the Sales Order screen and enter the details of the order, such as customer information, item details, quantities, and pricing. You can also specify the shipping address, delivery date, and other relevant details.
You can find the Sales Order screen from the Customers tab on the top menu bar or on the QuickBooks Desktop homepage.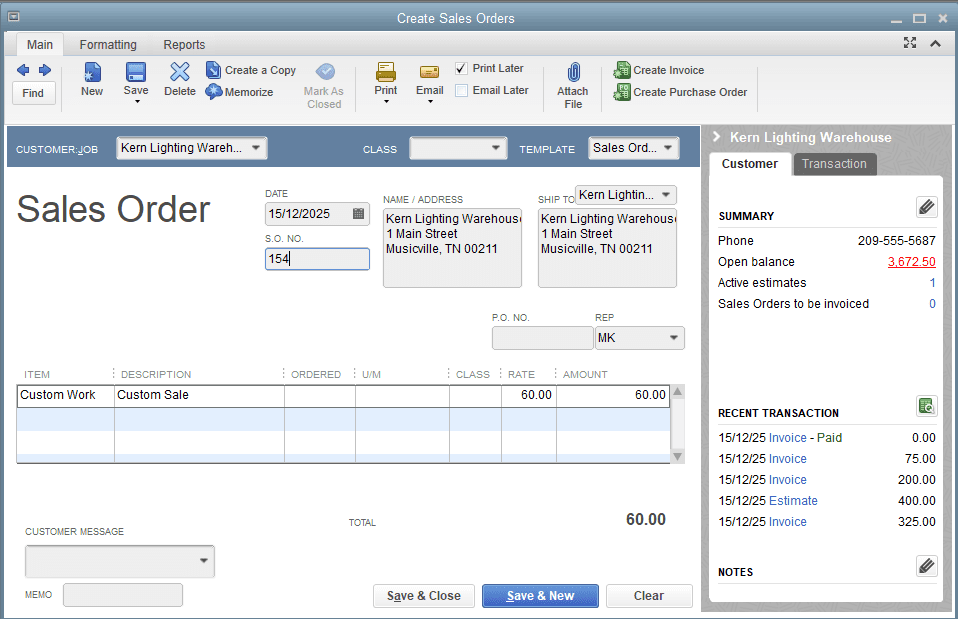 Managing Sales Orders
Once the sales order is created, you can easily manage it straight from the sales order management screen. From here, you can view, edit, and update sales orders, track order status, and monitor order progress. You can also create and send invoices and packing slips directly from the Sales Order Management screen.
Fulfilling Sales Orders
To fulfill a sales order, you need to select the order that you want to fulfill. From here, you can pick the items from your inventory and pack them for shipping. You can also generate a packing slip to include in the shipment.
Tracking Inventory Levels
QuickBooks Enterprise has a very powerful inventory management module that allows you to track your inventory levels in real time. This means that you can easily monitor your stock levels, set up alerts for low stock levels, and reorder items when needed. Here are some of QuickBooks Enterprise's advanced inventory management features:
Barcode scanning: You can use barcode scanning to quickly and accurately update inventory levels, track inventory movement, and conduct physical inventory counts.
Serial and lot number tracking: You can track inventory by serial or lot number, making it easy to manage product recalls, warranty claims, and product returns.
Assembly and manufacturing: QuickBooks Enterprise offers assembly and manufacturing features, allowing businesses to create finished products from raw materials and track the cost of goods sold for each product.
FIFO inventory costing: QuickBooks Enterprise uses the FIFO (first in, first out) inventory costing method, which ensures that the oldest inventory is sold first, and helps businesses maintain accurate inventory valuations.
Bin location tracking: You can track inventory by bin location, making it easy to locate specific items in the warehouse and streamline the order fulfillment process.
Learn why QuickBooks Enterprise is the best inventory management software.
Generating Invoices
Once the sales order is fulfilled, you can generate an invoice directly from the Sales Order Management screen. This makes it easy to bill your customers and get paid quickly.
Simply click on the Create Invoice button on the sales order management screen, and you'll be prompted to specify what to include on the invoice. You can create invoice for selected items or generate invoice for all of the sales orders.

Reporting & Analytics
Finally, the Sales Order Fulfillment feature in QuickBooks Enterprise also includes reporting and analytics tools that allow you to track sales orders, inventory levels, and fulfillment performance. This information can be used to identify areas for improvement and optimize your sales order fulfillment process. Examples of sales order reports include Open Sales Order by Customer, Open Sales Order by item, and Item Price List.
Bottom Line
The Sales Order Fulfillment feature in QuickBooks Enterprise is a powerful tool that allows you to manage and fulfill customer orders efficiently and accurately. With this feature, you can streamline your sales order process, reduce errors, and improve customer satisfaction.