Managing finances for food and beverage businesses can be a daunting task, especially with the complexity of inventory management, sales tracking, payroll, and financial reporting. QuickBooks Online Advanced offers many useful features to overcome these challenges, including custom fields, project profitability tracking, and batch transaction entry.
In this article, we'll explore the various ways that QuickBooks Advanced can be used to manage food and beverage industries effectively.
Custom Fields
Custom fields can be added to customer and vendor profiles and items, like invoices and sales receipts, to capture specific information unique to the food and beverage industry. Custom fields can be used in various ways. For example, you can set up custom fields to track customer preferences, dietary restrictions, and other information that can be used to personalize their experience, helping you improve customer loyalty and satisfaction. If your restaurant charges a service charge, you could add a custom field for "service charge" in your invoice to capture the percentage or amount of the service charge applied to the invoice.
Batch Transactions
Food and beverage businesses can use batch transactions to record multiple sales transactions at once. This can be especially useful for those that have a high volume of sales, such as restaurants or catering companies. For example, a catering company can record all of the sales from a large event in one batch transaction.
Another use of batch transaction entry in QuickBooks Advanced is recording multiple bills all at once. If your business has multiple vendors that you need to pay on a regular basis (e.g., a coffee shop that sources beans from multiple suppliers, then you can use the batch transaction feature to enter bills and pay them at the same time within QuickBooks.
To create a bath transaction in QuickBooks Advanced, click on the +New button and then select Batch transactions under the Other column. From the Batch transactions screen, select the type of transaction you wish to create (i.e., invoices, bills, and expenses) and then choose the action you wish to make (i.e., create, modify, or delete). Next, fill out the necessary information for the first transaction, including customer or vendor details, item details, and payment information.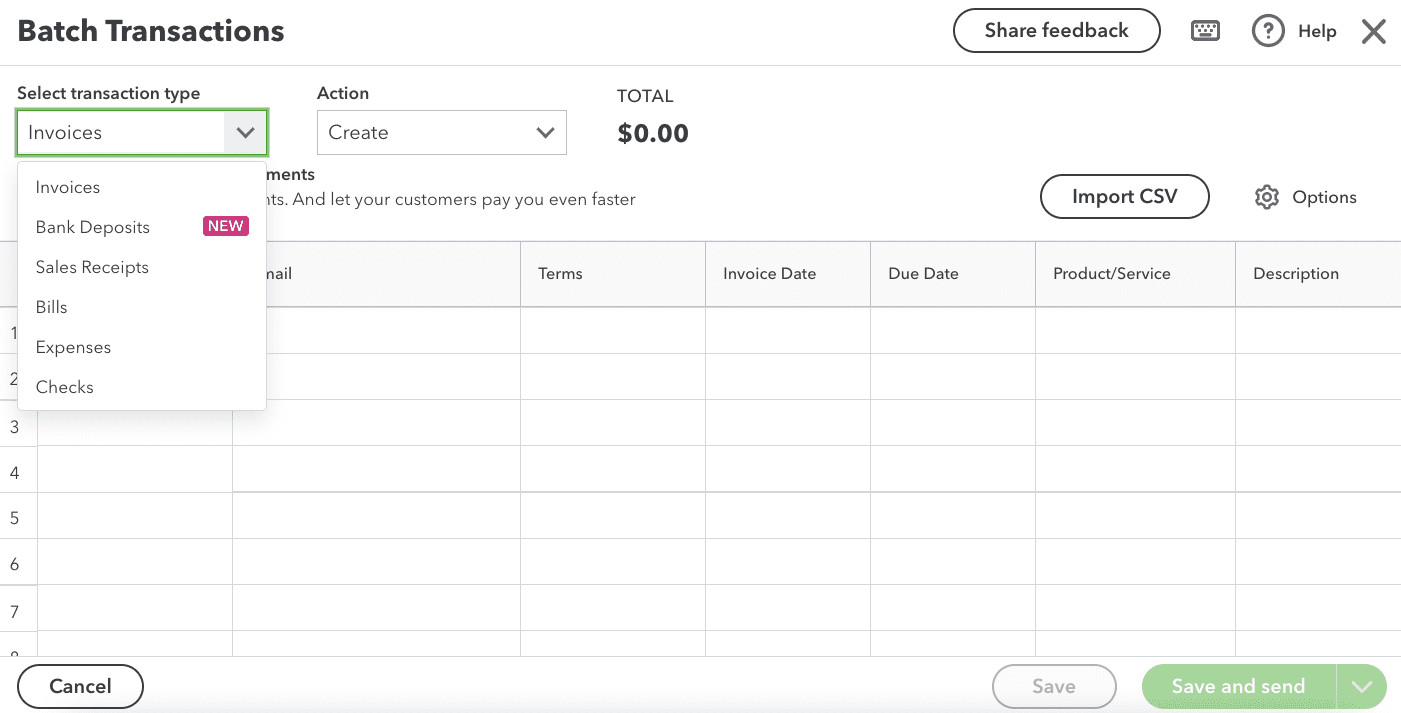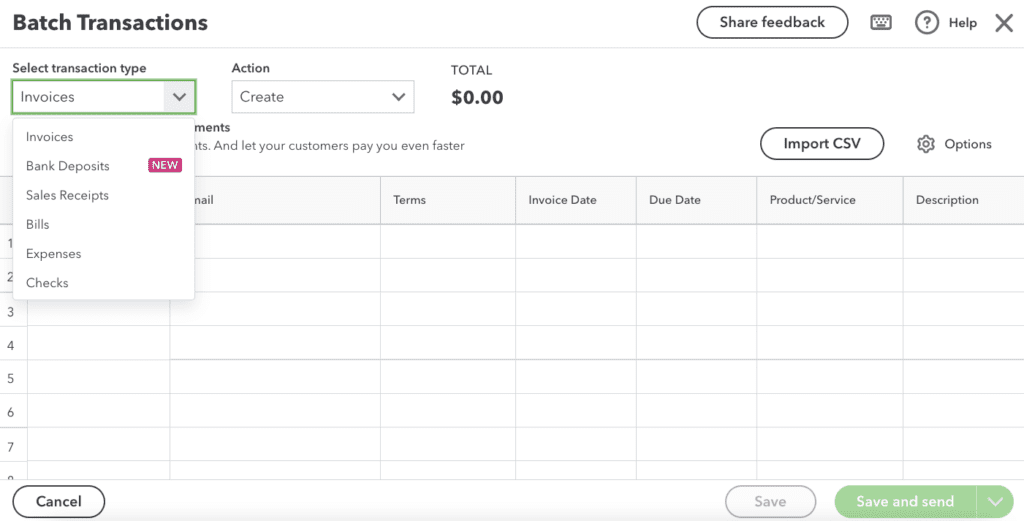 Preparing to create batch transactions in QuickBooks Online Advanced
A new transaction entry will appear, pre-filled with the information from the previous transaction. Make any necessary changes to the information for this transaction. Click Save once done.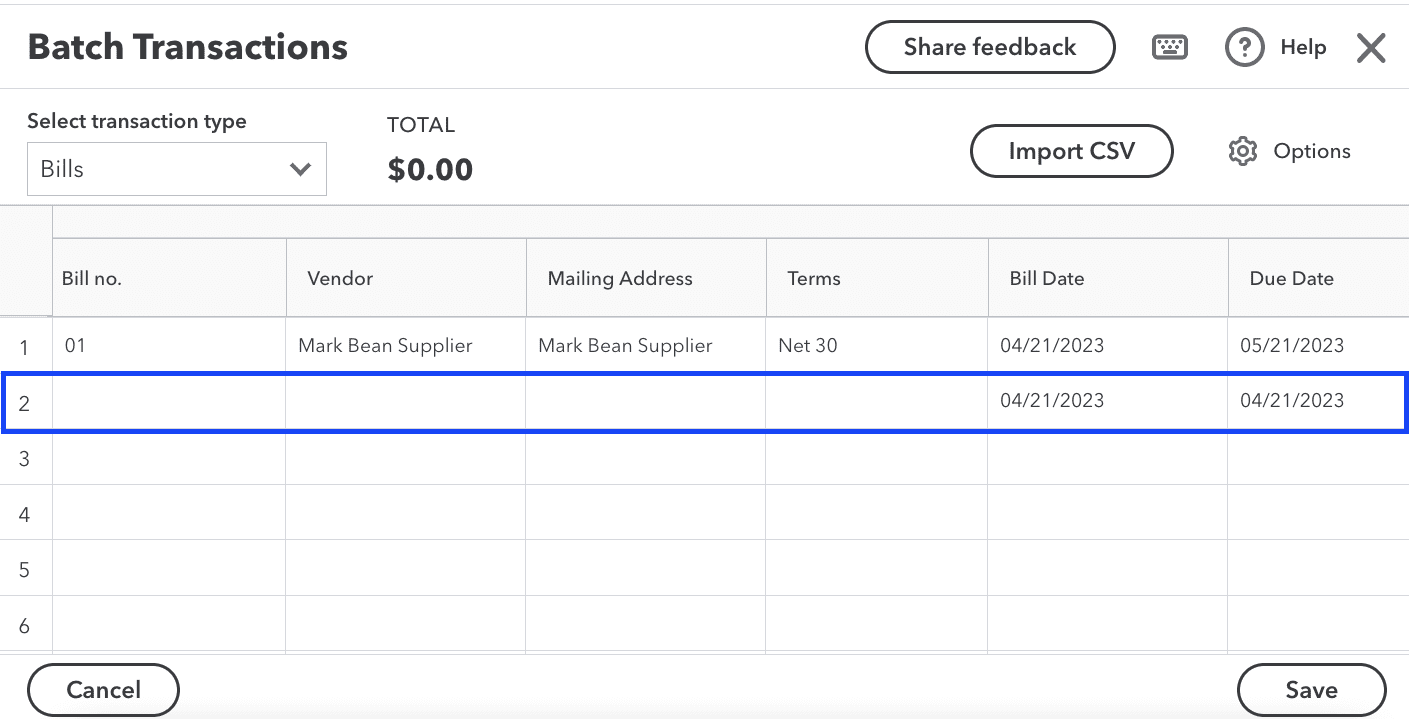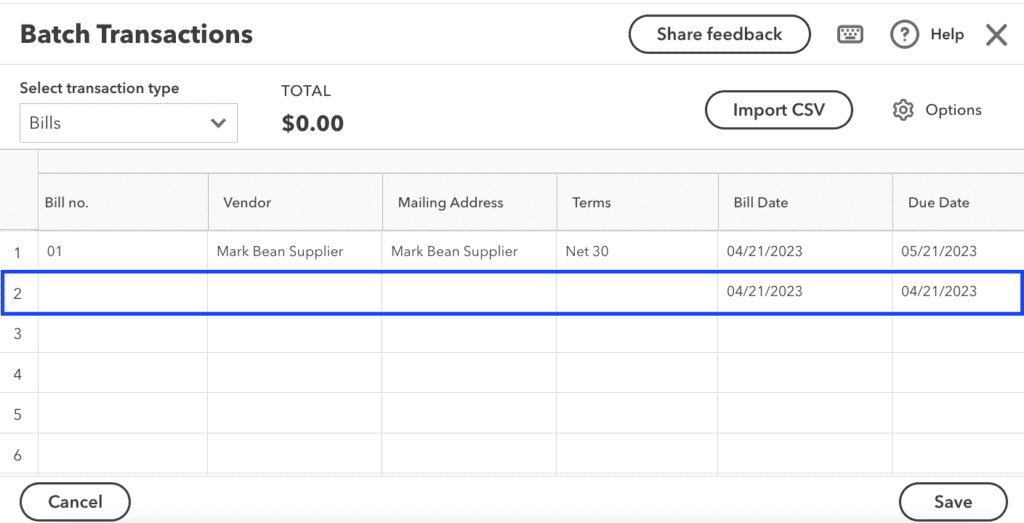 Creating batch transactions in QuickBooks Online Advanced
Learn more about batch invoicing and expense management in QuickBooks Online Advanced.
Multiple User Access
QuickBooks Advanced is great for multi-user environments, as it allows you to add up to 25 users. With multiple user access, your members and teams can collaborate on accounting tasks. For instance, some users can manage inventory while others handle sales and invoicing, and another team can oversee payroll. This frees up time for other business tasks and increases overall productivity. Also, you can control access to sensitive financial information by setting up user roles and permissions. This helps protect your financial information and prevents unauthorized access
Inventory Tracking
Inventory tracking in QuickBooks Advanced allows food and restaurant businesses to manage their inventory levels, reduce waste, and improve their profitability. For example, a bakery can use QuickBooks Advanced to track their inventory levels of perishable items like bread and pastries, ensuring that they always have enough on hand to meet demand without excess waste. Food truck businesses can use QuickBooks Advanced to set up automatic reordering of ingredients like meat and vegetables, ensuring that they always have enough on hand to serve customers.
Project Tracking
Project profitability tracking can be extremely beneficial for the food and beverage industries as it allows them to track costs and revenue associated with specific projects or events, such as catering events, product launches, or recipe development. Caterers can keep track of all the costs associated with their events, such as food, beverages, labor, rentals, and supplies. They can create a new project for each event and easily track all the expenses and revenue associated with that event, ensuring that they are meeting their profit goals.
Customizable Reports
Customizable reports allow you to create reports tailored to your specific needs. For example, a restaurant can generate a report that shows the sales and profitability of each menu item to help them make informed decisions on their menu offerings. Customizable sales reports can also them track their sales by product, customer, location, or any other criteria they choose. Additionally, they can create a customized profit and loss report that breaks down expenses by category, such as labor, ingredients, and rent, allowing them to identify areas where they might be able to cut costs.
Personalized Support and Guidance
Another unique feature of Advanced is the QuickBooks Priority Circle membership. As a Priority Circle member, you will receive premium customer support with reduced waiting times. You will also have access to exclusive QuickBooks Advanced training resources and support, which can help you and your staff become more familiar with the software and its features. You will also be guided by a dedicated success manager on various topics, such as budgeting, forecasting, and financial analysis.
Explore the other reasons why you should consider QuickBooks Online Advanced.
Bottom Line
QuickBooks Online Advanced offers several features that can be customized to suit the specific needs of food and beverage businesses. From custom fields to customizable reports, these features can help businesses streamline their financial management and make informed decisions to drive growth and profitability.