If your business works with multiple customers and vendors and has many invoices and expenses to record, you should consider QuickBooks Online Advanced. Available exclusively in Advanced, the batch transaction entry saves you precious time invoicing and expense tracking.
In this article, we'll look at how batch transaction entry in QuickBooks Online Advanced can benefit businesses, especially those who manage accounts payable and accounts receivable.
Batch Expense Entry
Unlike an individual bill, the batch entries option in QuickBooks Online Advanced allows you to enter bills and expenses for two or more vendors at the same time. This saves you time, especially if you have lots of expenses to enter. You can use the Batch Transactions tool to record multiple expenses and bills on a single screen.
From the Batch transactions entry, simply select the type of transactions you wish to create (e.g. invoices, checks, bank deposits, and sales receipts), and enter the required information like the payee, expense category, and amount to create the first check.  If you're sending the same check to multiple vendors, then you can just duplicate the first check you created and the same details will be automatically filled in the entry line. You just need to assign a new payee to each duplicate and then easily record all the expenses you created in one go.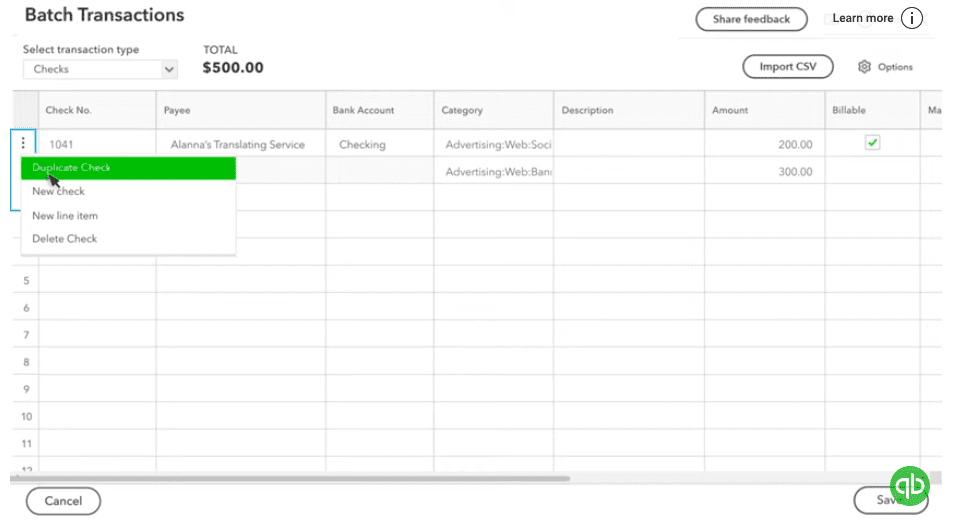 Batch Invoicing
QuickBooks Online Advanced speeds up invoicing by 37%. Just like batch expense entry, batch invoicing in QuickBooks Online Advanced allows you to create and send invoices to multiple vendors at the same time. You can enter multiple invoices at a single screen or create an invoice and duplicate it with the same details and just assign different customers. Batch invoicing in QuickBooks Online Advanced is particularly useful if you have customers who purchase the same product or service from you. For example, if you provide the same monthly subscription service to different clients who are billed on every last day of the month, you can send multiple invoices to all of them at the same time.
With highly customizable invoices, you can select what information appears in your invoice and create it with just a few clicks. It also helps you avoid manual data entry errors, as you won't have to complete each sales form individually for each customer.
Is batch transaction entry available only in QuickBooks Online Advanced?
Yes! Batch expense entry and batch invoicing are available only in the QuickBooks Online Advanced subscription. This makes Advanced a preferred option for businesses that have multiple customers and vendors. In addition to batch entries, Advanced has other helpful features, like more automation features and multiple-user access (up to 25 users). Explore the 10 advantages of using QuickBooks Online Advanced.