QuickBooks Desktop is available in three versions: QuickBooks Desktop Pro, Premier, and Enterprise. The right version for your business depends on the number of users you have and the features you need. For instance, if you need access to a few users and you need a simple solution for managing inventory, then QuickBooks Pro or Premier might be enough. If you handle complex inventory and pricing, then an upgrade to QuickBooks Enterprise is worth your money.
Let's compare the four QuickBooks Desktop versions to help you decide which software is right for your business.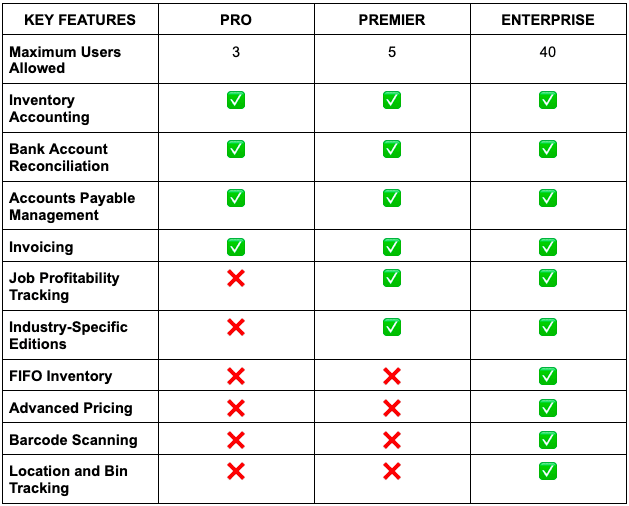 When to Use QuickBooks Desktop Pro Plus
QuickBooks Desktop Pro supports up to three users, but only user is included in the base plan. This means you have to pay an additional fee for each additional user. You can use QuickBooks Desktop Pro if you need access for up to three users and you only manage minimal inventory. If you have basic accounting needs, such as invoicing and tracking unpaid bills, then you might do well with Pro.
With QuickBooks Desktop Pro, you can reconcile bank accounts easily, input bills and scan receipts from your smartphone through the mobile app, track inventory, track time, and manage and track sales taxes. Depending on the type of business that you have, one of the downsides to QuickBooks Pro is the lack of industry-specific editions like the higher versions.
When to Use QuickBooks Desktop Premier Plus
An upgrade to QuickBooks Premier is worth the additional price if you are in a specialized industry. Unlike Pro, Premier includes a standard edition plus five industry-specific editions namely: Manufacturing and Distribution, Contractor, Retailer, Professional Service, and Nonprofits. Each edition comes with industry-specific reports and features that are tailored to the unique needs of your business.
Another reason to use QuickBooks Premier is if you are going to need access for up to five users. However, just like Pro, only one user is included in the base price, with an increased cost for each additional user. QuickBooks Premier includes all of the features offered in QuickBooks Pro in addition to several features, like the ability to manage 1099 forms, track project profitability, and create a budget or forecast for financial planning.
When to Use QuickBooks Enterprise?
You should consider QuickBooks Enterprise if you want a large enterprise that requires up to 40 users or you need a powerful end-to-end accounting solution with enhanced inventory management features. In fact, we consider QuickBooks Enterprise as the best inventory management software.
QuickBooks Enterprise has some notable features not available in the lower versions, including the ability to generate advanced reports, set up pricing rules, calculate inventory using the First-in, First-Out (FIFO) method, track inventory using a bar code scanner, and track inventory by bin and location. That said, QuickBooks Enterprise is the most powerful version of QuickBooks Desktop, and is preferred by many medium-sized and large enterprises.

In addition to its strong inventory management features, Enterprise also includes a batch invoicing module that allows you to send out multiple invoices in one go. This feature is useful if you're dealing with many customers.
QuickBooks Enterprise also excels in terms of reporting. It allows you to create highly customizable reports using different metrics, such as sales profitability, sales by city, paid invoices by sales representatives, and backorder. With Enterprise, you can run up to over 200 reports, and you can set up customized filters so that you can go deeper into your numbers. Advanced reporting in QuickBooks Enterprise provides extreme value to your business.
QuickBooks Enterprise is available in four plans: Silver, Gold, Platinum, and Diamond. Each plan is priced differently, with some add-on selections, such as QuickBooks Time Elite, Salesforce CRM Connector, and assisted payroll in the Silver and Platinum plans. If you have a large employee workforce, then we recommend that you upgrade to QuickBooks Enterprise Advanced as it includes Assisted Payroll, which gives you access to a QuickBooks Professional who will do the tax filing for you.
Learn the difference between Enhanced Payroll and Assisted Payroll.
What is the best QuickBooks Desktop version for me?
The best QuickBooks Desktop product depends on your needs and the number of users you have. While all three versions have strong accounting features, we recommend that you consider QuickBooks Enterprise to get the most value from the program.