Proper pricing management is essential to any type of business, as it dictates the value of the products and services you offer. This is one reason why companies set up customized pricing for their customers. When set up properly, customized pricing can help you entice customers to buy your products and services, resulting in improved productivity.
If you are a small business owner or executive who wants to add flexibility in pricing without doing a lot of extra work, you will benefit from QuickBooks Desktop Enterprise's advanced pricing.
What is Advanced Pricing in QuickBooks Enterprise?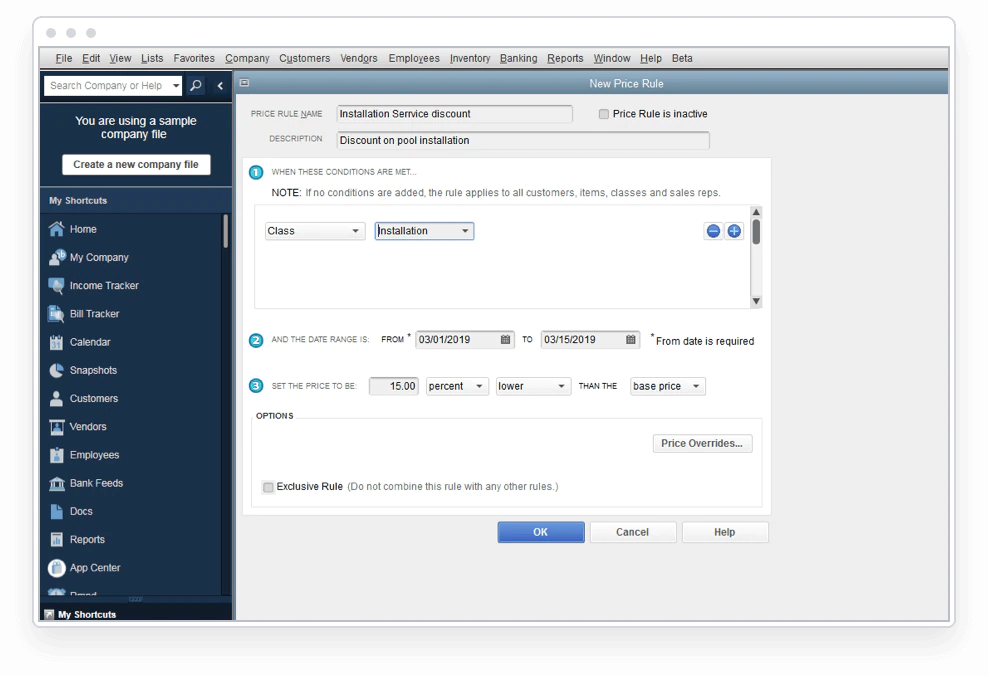 Exclusively available in QuickBooks Desktop Enterprise Platinum and Diamond, Advanced Pricing in QuickBooks is an advanced feature that allows you to create pricing rules to customize your pricing. When these price rules are met, QuickBooks Desktop Enterprise will automatically adjust the prices of your items on sales forms. You just need to set up your custom prices properly and let Enterprise do its magic.
How Does QuickBooks Advanced Pricing Work?
Advanced pricing in QuickBooks Enterprise enables you to set precise pricing rules with conditions based on different metrics, such as customer, item, quantity, class, date range, and sales rep. You're probably aware that all QuickBooks Desktop Enterprise versions have built-in features for allowing custom price levels. QuickBooks Enterprise Platinum and Diamond take it one step further with price rules. Price levels let you adust prices for each customer or group of customers. For instance, if you've agreed to offer a 15% discount to a customer on all items, you can use price levels to deduct the 15% discount from the item price whenever billing your customer.
You can be more detailed by using price rules. For example, your top 10 customers will receive a special discount of 15%, but only when they purchase 20 or more items. You can set all of these conditions in QuickBooks Desktop Enterprise, and it will automatically calculate the discounted item prices on your sales invoice.
Use Advanced Pricing to Your Advantage
With QuickBooks Enterprise's advanced pricing, you can customize and automate your pricing so you won't have to manually set up or update anything. You can easily change your prices without doing any extra work. Advanced pricing helps you be flexible on special promos, cost-of-goods increases, and other elements, like
Quantity discounts
Manufacturer markdowns
Scheduled promos with future start dates
Price changes by class
Additional Controls on Price Rules
Manage your price rules the way you want them. With advanced pricing, you can have additional controls, such as:
Create conditions for the rules
Edit price rules
Delete price rules
Make a price rule inactive
These are just some of the reasons many companies take advantage of QuickBooks Enterprise's advanced pricing for their customers. When set up properly, personalized pricing can help you encourage customers to buy more products and services from you, which will help you improve your bottom line. Read our article on how to set up advanced pricing in QuickBooks Desktop Enterprise.