Intuit Payroll
Pay employees quickly and easily. Create unlimited paychecks and calculate payroll taxes automatically - all with free live support.
Starting at only $31.50 per month.
Overview
We make Intuit Payroll Services easy so you can get back to doing what you love

Payroll in your QuickBooks
Save time with everything in one place. No exporting or double checking. Everything is done right in QuickBooks.

Paychecks in 3 easy steps
Just enter your hours in QuickBooks, review and approve your payroll and pay your employees.  That's it!

Free direct deposit
Two ways to get employees paid - print checks or use direct deposit, choose whichever your employees prefer. 
Free expert support
Intuit Enhanced payroll includes free support from payroll experts so if you have questions, just call.
See how using Intuit Payroll allows you to pay employees quickly and easily.
Features
Everything you need to get employees paid accurately and on time
Paydays made easy
Paycheck accuracy powered by QuickBooks
Rest easy with automatic payroll tax calculations
Avoid tax penalties with our 100% Penalty-Free Guarantee.*
File taxes your way – do them yourself, or we'll do them for you
Payroll software that fits your business
Easy, intuitive setup
Integrated time tracking
Fast and free Same Day Direct Deposit
Run payroll from anywhere with the mobile app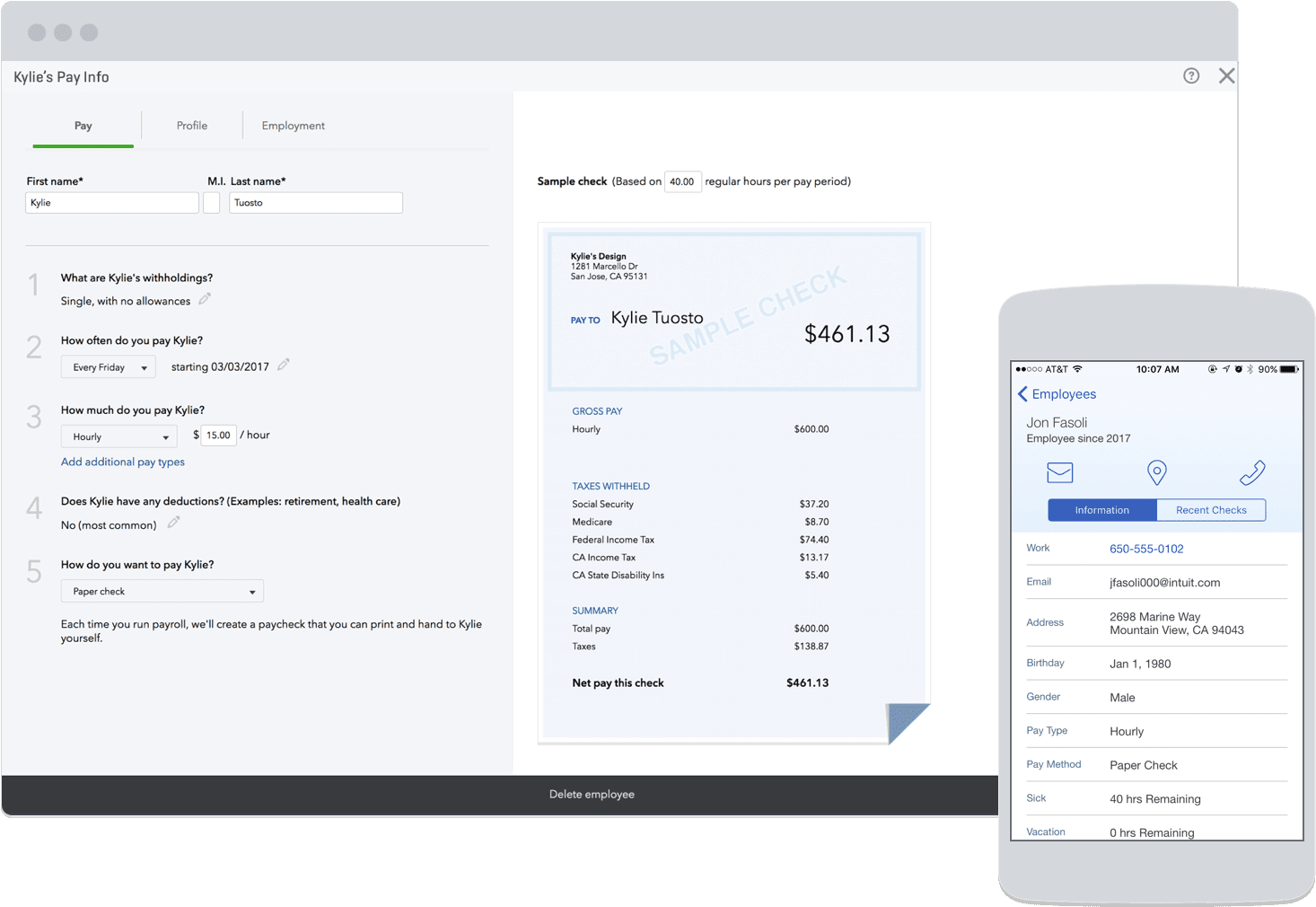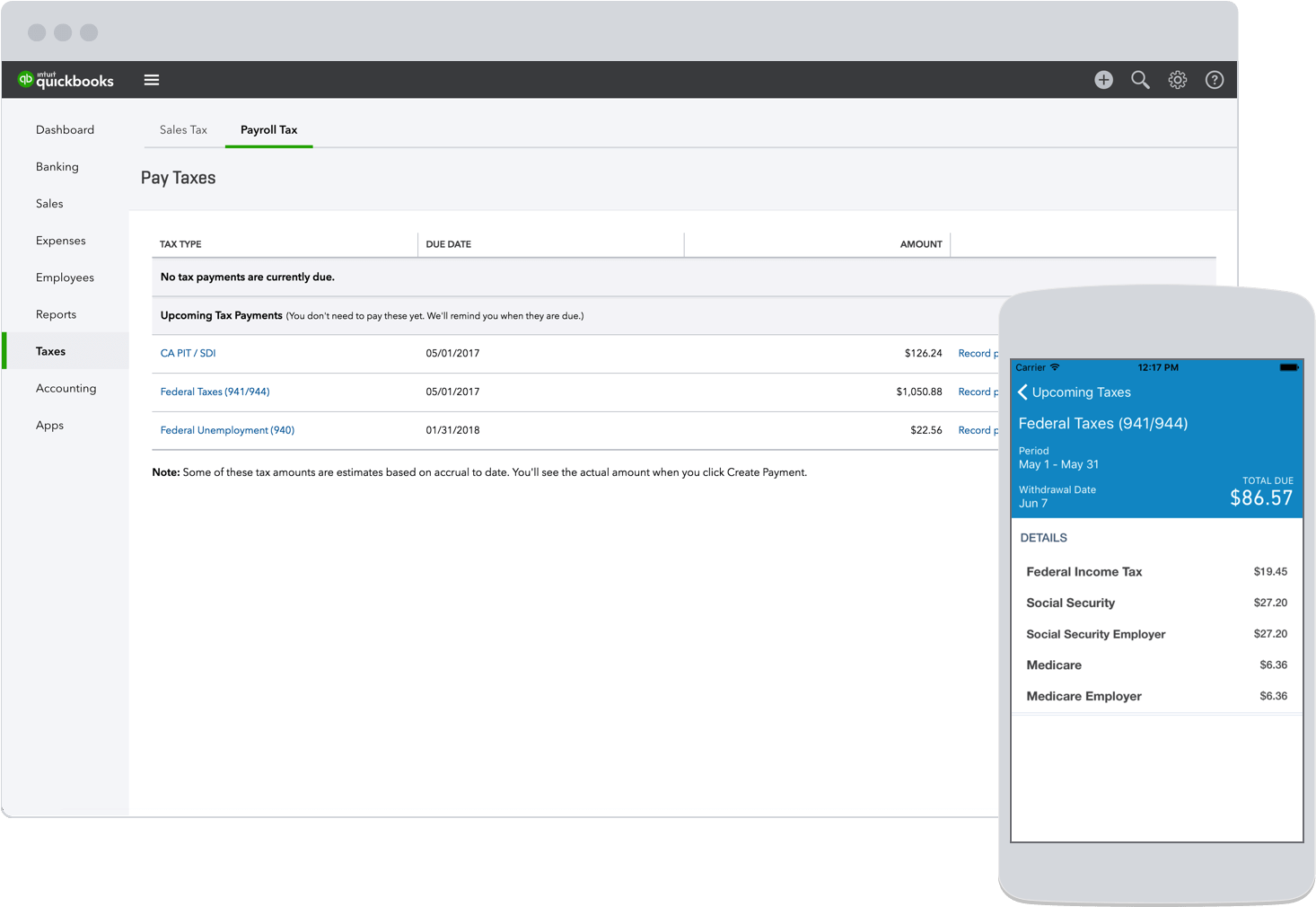 Manage your payroll and accounting all in one place
Real-time data updates
Payroll and accounting data syncs and updates automatically to save you time.

Stay accountant ready
Easily share accurate, real-time payroll and accounting data with your accountant, anytime.

Faster direct deposits
Fast and free Same Day Direct Deposit for employees and contractors lets you submit payroll when you're ready, so you can keep funds a bit longer.
Pricing
Join over 1 million businesses that use Intuit Payroll
Simple, straightforward pricing. Choose the best plan for you.
Enhanced Payroll
Full Service Payroll
Compare Payroll Products
$27.30/month
+$2/employee/month
$59.40/month
+$2/employee/month
Integrated with QuickBooks
yes
yes
Easy paychecks for W2 and 1099 employees
yes
yes
Pay employees for free by check or direct deposit
yes
yes
Free expert support by phone, email or chat
yes
yes
Free end of year assistance
yes
yes
Electronically file W2's at end of year
yes
yes
Federal tax forms included
yes
yes
State tax forms included
yes
yes
Local tax forms included
no
yes
Click for payroll tax E-File & E-Pay
yes
no
We file and pay taxes for you
no
yes
No tax penalties, guaranteed
no
yes
Payroll setup completed for you
no
yes
Free year-end forms included
no
yes
Detailed profit views with job costing
no
yes
Get Started
Call 866-949-7267 to speak with a payroll expert or have us contact you by using the form below.
Still have questions or need help? Call 866-949-7267