Are you looking to make use of the newest features in QuickBooks Point-of-Sale V18?
Upgrading from an older version is easier than you think, and for your convenience we've compiled the step-by-step guide below.
Step 1 – Ensure your system meets the requirements of V18
.
See requirements below straight out of the QB User Guide: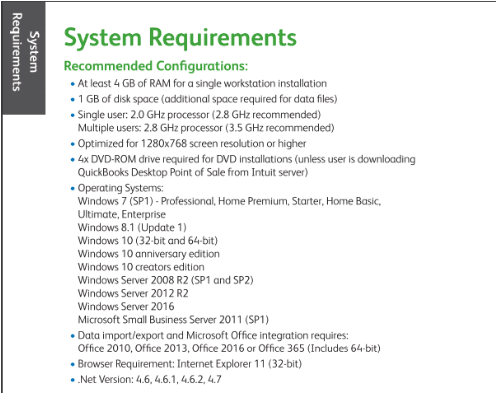 Step 2 – Settle any pending credit/debit card transactions and any data exchanges with other stores.
Here you will want to review the exchange history and ensure that all transactions have properly updated between systems.  Resolve any issues where data has not exchanged properly prior to updating.
You will also want to verify your QuickBooks Point-of-Sale files.
Do this by:
From your Help menu, launch QBPOS Debug mode.

Run the Verify utility from the POS Help menu.

Click Debug, and select Verify Data.
If this completes normally with no errors, proceed to the next step.
If any errors are found, do not proceed with the install. Work to troubleshoot problems and consult Intuit resources before continuing your upgrade.
Step 3 – Backup your current POS company data file.
This is arguably the most important step. As we all know, something is bound to go wrong when technology is involved.
Don't let your current data file fall victim to this. This can also be crucial should anything go wrong after the upgrade.
On top of this, do not uninstall your previous version of QB. The upgrade will handle all this for you.
Additional tip: If you require passwords to login to POS, make sure you have a password assigned to the SysAdmin account. Some activities are restricted to this user in V18 and you want to have access to them.
Step 4 – Update any installed firewall software to the latest release.
You can do this by right-clicking on the firewall icon in your task tray and selecting 'Check for Updates'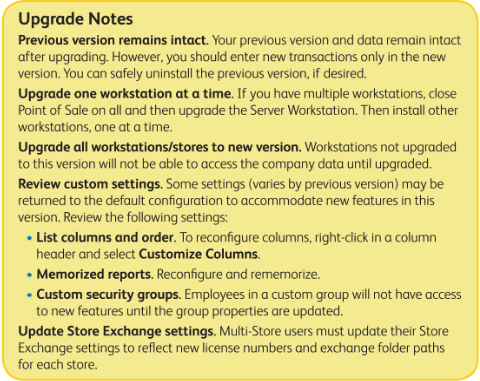 After this you are ready to install!
Step 5 – Install QuickBooks Point-of-Sale V18 on the server
After you've downloaded the file, double-click the

QBPOSv18.exe

file to get started.

Enter your license and product numbers

Select

Server Workstation

as the installation type

Select the number of computers to be used.
If you are a single user, select

Only this Computer

If you are running multiple POS workstations, select

Multiple Users

then

Two or More Computers

and select

Server

.
Click

Install

to continue.

If prompted, restart your computer.
Step 6 – Launch Desktop Point-of-Sale V18
At this point, the system will detect your previous version and prompt you to convert it for use with the new version.
Click Yes to copy and convert your data. You will also enter the name for your company file, which can be the same as the old one.
A display window will pop up where you can select to save your data. You can either use the suggested location or choose your own and click OK.
Step 7 – Install the Upgrade to Each QuickBooks Point-of-Sale Workstation
Leave the server workstation where you just installed V18 running, but close the POS software.

You will follow the same procedures from Step 6, but make sure you select

Client Workstation

as the installation type.

Restart your computer then launch the Point-of-Sale software.

The software will find the company data on the server workstation. Select your company and click

OK

.

If prompted, enter a workstation number, use your username and password to logon, then if necessary, merge licenses with the Server Workstation.
To merge and synchronize licenses:
When prompted to merge, select Merge Now.

Follow the prompts to complete the merge.

On the server workstation, synchronize with Intuit's licensing server. (Note: If the server is connected to the internet and has previously registered, this is completed automatically.)
Note that Point-of-Sale V18 supports up to twenty networked stations in a store – one Server Workstation, and up to nineteen Client Workstations.
After completing these steps, the Point-of-Sale will reconnect to the same company data for each launch.
The upgrade process for QuickBooks Point-of-Sale V18 is fairly straightforward. Should you encounter any errors, you can consult the QuickBooks Point-of-Sale V18 User Guide here.
Have questions?  Need help? 
Looking for QuickBooks Point of Sale answers and help but not sure where to start?  We can help!  With over 20 years experience in the industry, we can help guide you into the best solution in just a couple minutes time.  Best of all, if what we offer is not the best solution, we will let you know.  To see if we can help, just give us a call at 866-949-7267 or click here to send us a email.  We look forward to helping you!
[wpcaptevrix_sscta id="0″]