With powerful features such as custom reporting, advanced inventory management, and advanced pricing, QuickBooks Enterprise can be a game-changer for medium-sized to large businesses. However, with so many features and capabilities, it can be challenging to know how to get the most out of your QuickBooks Enterprise subscription.
In this blog, we will share some tips and strategies to help you maximize the benefits of QuickBooks Enterprise.
Choose the Right Version
Before purchasing a QuickBooks Enterprise license, it's important to determine which version is right for your business based on factors like the number of users you need, the types of features you require, and your budget. Many medium-sized and large businesses choose QuickBooks Enterprise Platinum or Diamond because of the availability of enhanced features, like advanced inventory management and advanced pricing. If you need help deciding which plan is right for you, explore our guide to choosing the best version of QuickBooks Enterprise.
Set Up User Permissions
QuickBooks Desktop Enterprise allows you to set up user permissions, which control which users can access specific features and functions within the software. By setting up user permissions, you can ensure that sensitive financial data is protected and that users only have access to the features they need to perform their job functions.
Let's say you have several teams that are responsible for different areas of your business, including sales, purchasing, and accounting. The company administrator can assign full access to the accounting staff, who need access to all areas of the software to perform their job functions. The sales team is assigned limited access, which allows them to create invoices and enter customer information but does not allow them to access sensitive financial data such as payroll or bank account information.
The purchasing team is also assigned limited access but with the ability to create purchase orders and enter vendor information. External accountants are given access to the software to perform bookkeeping and tax preparation services.
Take Advantage of Advanced Reporting Features
Enterprise allows you to create customized reports and dashboards based on your specific needs. Some of the most popular custom reports in Enterprise include Sales by Customer Type, Profit and Loss by Product or Service, Inventory Valuation Summary by Location, and Sales by Sales Rep reports.
You can use these custom reports to gain greater insights into your business's financial health and make more informed decisions. For instance, the Sales by Customer Type report helps you
analyze the effectiveness of your marketing campaigns or see which customer types are generating the most revenue. If you are a retailer that sells clothing and accessories, you can run this report to see how much revenue is generated by each customer type, such as men, women, and children.
For project-based businesses, they can run a Job Profitability Summary report, which provides a summary of job-related costs, revenue, and profitability. This makes it easier for you to evaluate the financial performance of individual projects or jobs.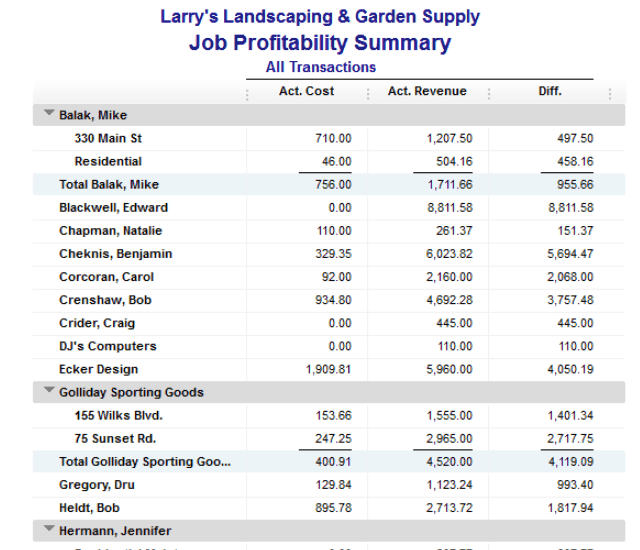 Sample job profitability summary report in QuickBooks Online Advanced
Learn more about advanced reporting in Enterprise and how it benefits your business.
Automate Your Workflows
One of the biggest benefits of QuickBooks Desktop Enterprise is the ability to automate many of your financial workflows. By setting up rules and triggers within the software, you can automate tasks like invoice creation, payment reminders, and inventory management. Automation can save you time and help prevent errors.
Let's say you have a large number of vendors who send invoices to you on a regular basis. To make sure that all invoices are paid on time, you can set up a trigger that will send a reminder email to the accounting department whenever an invoice is overdue.
Use Advanced Inventory Management
If you sell physical products, Enterprise's advanced inventory management features can be a game-changer. With features like serial number tracking, barcoding, and lot tracking, you can more easily track inventory levels and reduce errors. When setting up inventory, you can can make serial or lot tracking numbers mandatory for items like invoices, sales receipts, and item receipts.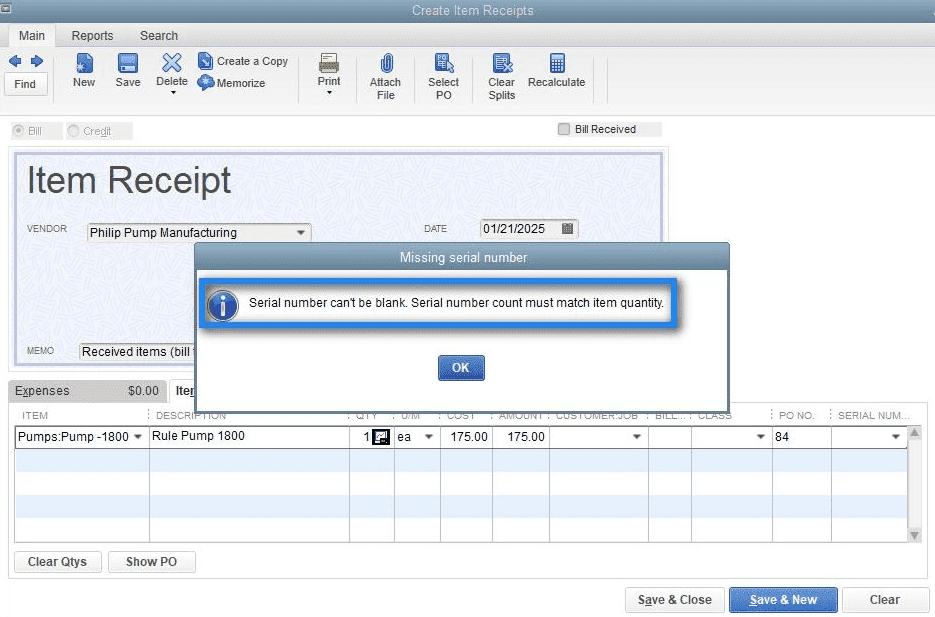 Making serial numbers mandatory in sales receipts
If you need to track inventory across multiple locations, we recommend that you upgrade to Enterprise Platinum or Diamond. These two plans allow you to manage your inventory items in multiple locations and adjust pricing rules easily.
Once locations are set up in Enterprise, you can assign the inventory to each location. You can do this by going to the "Inventory Center" and selecting the item you want to assign. Then click the "Edit" button and choose the location where the item will be stored. You can then transfer inventory between locations and run reports to see the inventory levels at each location.
Discover why Enterprise is the best inventory management software.
Stay Up-to-Date with Updates and Upgrades
QuickBooks Enterprise is regularly updated with new features and upgrades. Staying up-to-date with these updates can ensure that you have access to the latest tools and features to optimize your financial workflows. It's important to check for updates regularly and to upgrade to new versions when they become available. Learn what's new in QuickBooks Enterprise 23.0.
Get Training and Support
Enterprise is a complex software with many features and functions. Fortunately, QuickBooks offers a range of training and support resources, including live and on-demand webinars, online courses, and a dedicated support team. If you subscribe to Enterprise, you'll get access to premium support called QuickBooks Priority Circle, designed to provide them with a higher level of service and support.
Each Priority Circle member is assigned a dedicated account manager who is responsible for providing personalized support and assistance. You will also receive faster response times and priority support over non-Priority Circle members as well as customized training sessions that are tailored to your specific needs and requirements.
Bottom Line
We hope the tips and strategies shared in this blog have provided you with some useful insights into how to get the most out of your QuickBooks Enterprise subscription.