Accounting is an important aspect of running a construction or contracting business. Small companies may only require basic accounting features for calculating profit and loss by job, while larger enterprises may need to upgrade to a full-featured enterprise resource planning (ERP) software.
QuickBooks Desktop Enterprise has an industry-specific version for contractors, designed to provide end-to-end project management solutions, from creating estimates to tracking cost and revenue by job.
Let's take a look at how construction companies can benefit from QuickBooks Desktop Enterprise for Contractors.
Job Costing
Job Costing is one of the obvious reasons many businesses upgrade from QuickBooks Desktop Pro to Enterprise. With QuickBooks Enterprise, you can create and send estimates, track time and expenses against an estimate, and generate detailed job costing reports which help you determine which jobs are the most profitable. Project managers can zero in on the progress and profitability level of each job. This means they can instantly figure out if the project is scheduled to be completed on time and if the costs are expected to be met. Accurate estimation is extremely important for construction businesses, and QuickBooks Enterprise's robust job costing feature is a great help. Learn more about job costing with QuickBooks Enterprise.
Invoicing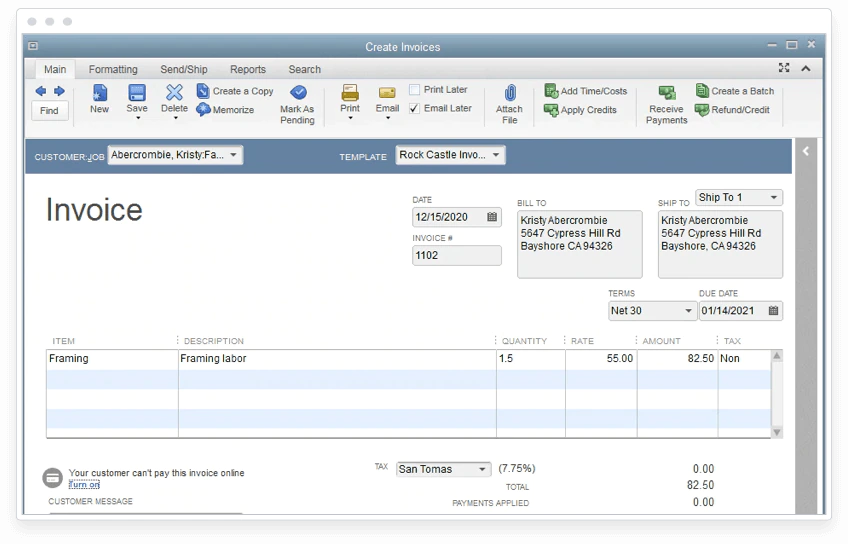 Invoice creation and tracking are essential parts of construction accounting. QuickBooks Desktop Enterprise lets you create and send invoices as well as track them until they are paid. Invoicing in QuickBooks Desktop Enterprise is quite similar to the other QuickBooks software, except that you can send out invoices in bulk. This makes it a great option for bigger enterprises that send a large volume of invoices. Invoices can be customized to your company and brand, and they can be sent out as PDFs or by email.
Construction Payroll
QuickBooks Desktop Enterprise offers two options for managing your payroll operations. Enhanced Payroll, included in Gold and Platinum, is a self-service option that works best for businesses that file taxes on their own. Enhanced Payroll allows you to pay employees with checks and direct deposit and generate W-2 forms at no additional cost. On the other hand, Platinum subscribers have access to Assisted Payroll, a more advanced option that includes automated tax filings. It offers the same features as Enhanced Payroll, except that QuickBooks will pay and file your taxes. If you don't have the luxury of time to file taxes, then you should upgrade to QuickBooks Enterprise Diamond to access Assisted Payroll.
Time Tracking
Available in the Diamond plan, QuickBooks Time (formerly TSheets) is a robust time tracking tool that enables you to clock an entire team in and out. With its GPS tracking feature, you can easily determine who are working at which site and for what project. QuickBooks Time enables you to track and submit time from the mobile app, create schedules by projects, tasks, or shifts, review and approve PTO requests from employees, and more.
Check out our tips for using TSheets or QuickBooks Time to track time in QuickBooks.
Advanced Inventory
QuickBooks Desktop Enterprise's advanced inventory help construction companies stay updated about materials that are distributed and returned to and from different channels. With QuickBooks Enterprise, you can organize and analyze data, such as how long it takes a supplier to process orders and ship them. Enterprise has a mobile barcode scanner that allows you to easily receive products and pick, pack, and ship items. It also includes a centralized dashboard that lets you manage sales orders and purchase orders smoothly.
Advanced Pricing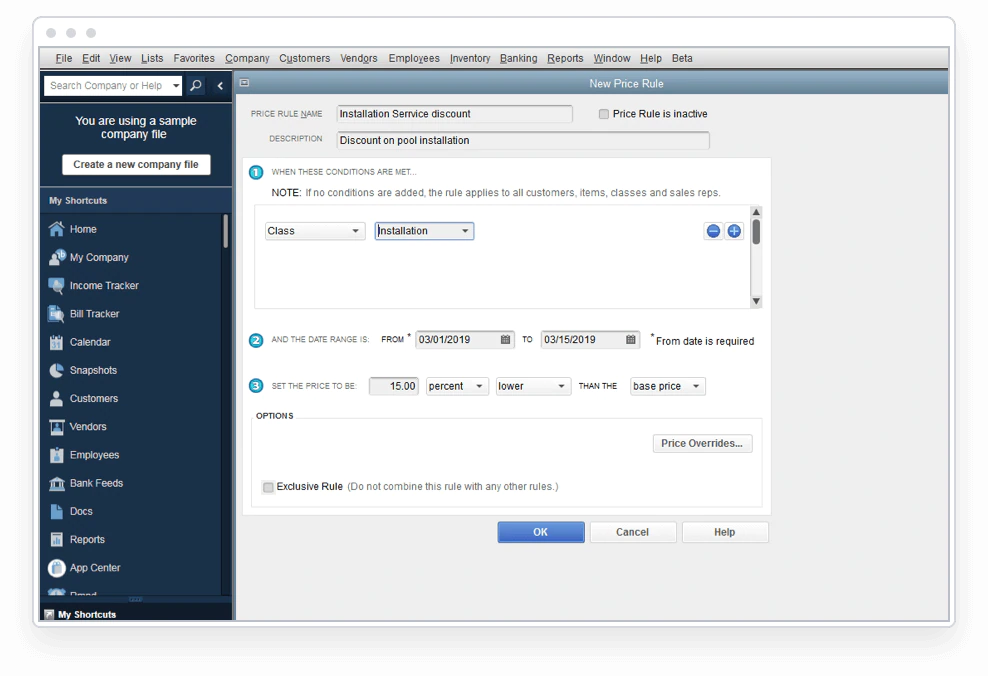 This feature allows you to control and customize your service prices for a particular customer. Pricing rules can be created based on service items, quantity, date range, and customer. You can also add quantity discounts, promotions, and manufacturer markdowns. With QuickBooks Enterprise's advanced pricing, you can easily adjust your prices to keep your bottom line growing. There's no manual work to do; simply set the price rules and QuickBooks will do its magic.
See how advanced pricing works.
Advanced Reporting
QuickBooks Enterprise includes robust reporting capabilities that help you discover untapped insights into how your construction business is performing. With enhanced searching and filtering, you can build any kind of report that you need. It has easy-to-use templates that help you create reports customized to your industry. You can run different reports on your construction business, including job status reports, job costs by job, profitability by income, billed/unbilled hours by person and job, and open purchase orders by vendor.
Cloud Access
While QuickBooks Desktop Enterprise is a locally installed program, you can still take your data to the cloud through hosting. QuickBooks Enterprise with Hosting allows you to access your data anytime, anywhere, and on any device as long as you are connected to the internet. This means everyone in the team works on the same data at the same time, no matter where they are and what devices they are using.