One of the most efficient ways to track the profitability of a construction company is to use a robust accounting program like QuickBooks Desktop Enterprise. QuickBooks Enterprise is Intuit's most powerful accounting software—with built-in industry-specific reports and tools exclusively designed for construction businesses.
QuickBooks Enterprise has custom-tailored features for contractors including a customized chart of accounts, work order management, change order management, estimation, and a job costing center. On top of these features, QuickBooks Desktop Enterprise provides industry-specific reports that help you keep your construction business on sound ground.
Today, we'll walk you through the top 5 essential industry-specific reports for contractors that you can run in QuickBooks Desktop Enterprise.
Job Estimate Vs. Actual Cost
Job Estimate Vs. Actual Cost is the most useful report for construction companies as it provides a side-by-side comparison of actual and estimated revenue and expenses. Simply put, contractors will be able to see the differences between their estimated cost and the money they actually spent on a certain project. This report can be sorted out by job or drilled into service items for a specific job. The information generated from this report can also be used to calculate Working-In-Progress (WIP) reports.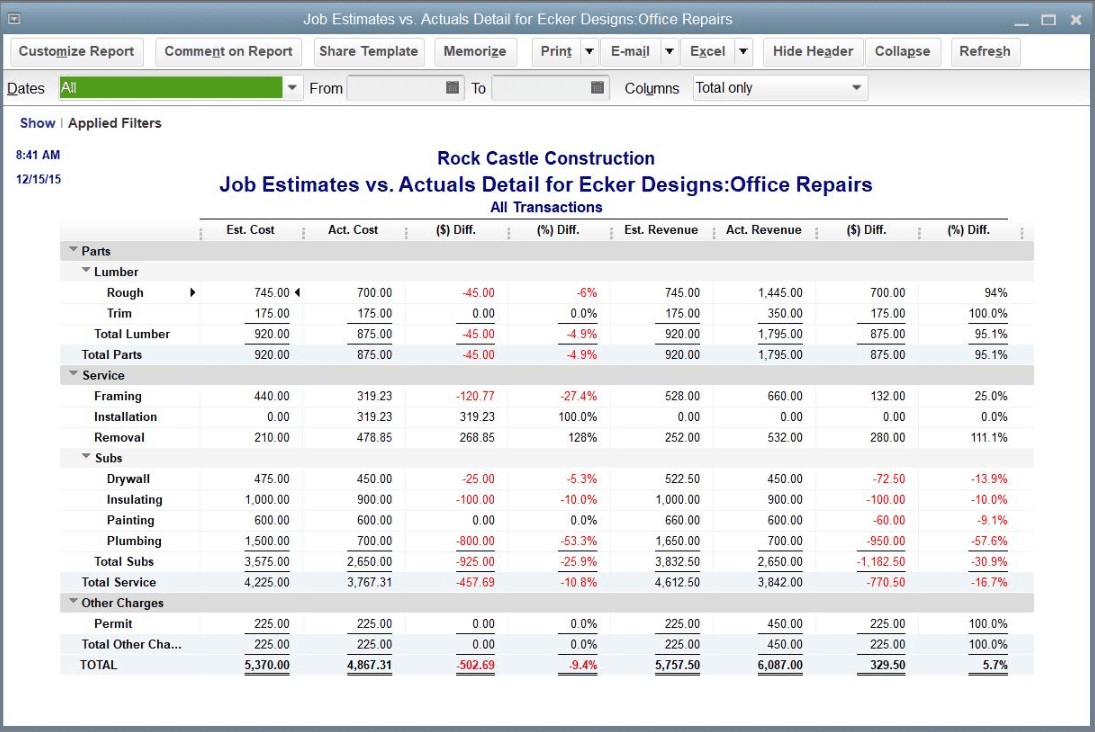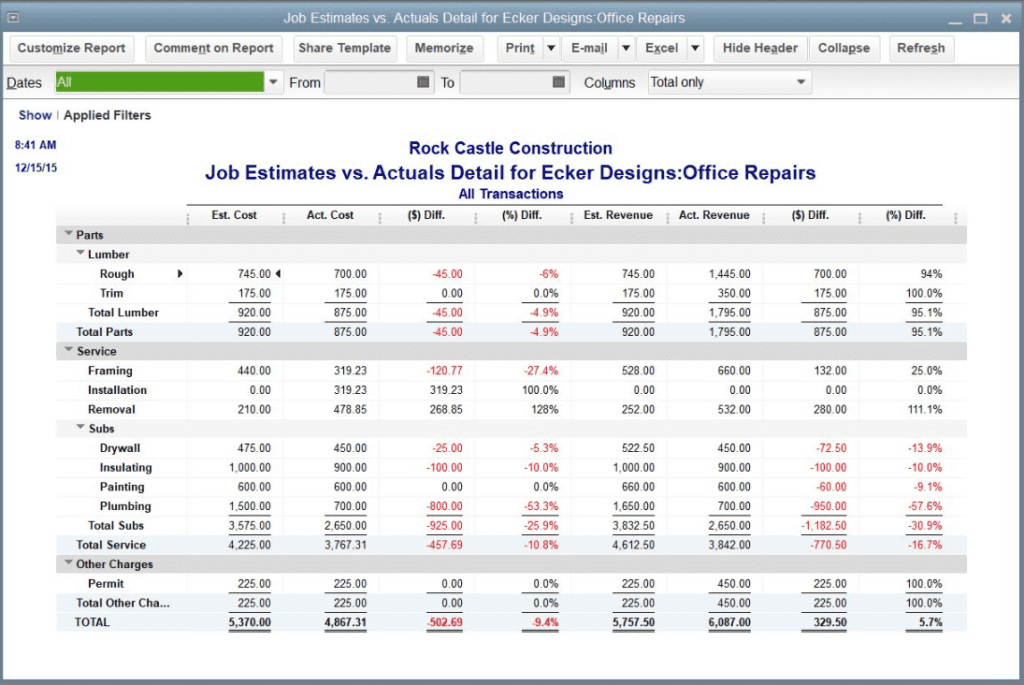 Items Estimate Vs. Actual
If you want to know which among your service items are poorly estimated, then you should run this report. It provides a comparison of actual and estimated revenue and costs by service items across all jobs. This is especially beneficial for contractors who provide a variety of services.
This report can help project managers make informed decisions about their financial situations.
Job Profitability Reports
Job profitability reports are used to identify the differences between the amount you spent and the money you were paid. Information from this report, including the gross profit, are useful for tracking other key performance indicators (KPIs) that can help construction companies evaluate their financial position and whether their projects are successful. To generate job profitability reports, you'll need key information, such as a list of your in-progress and completed projects, the total direct job costs for each project, the total income for each project, and the difference or gross profit.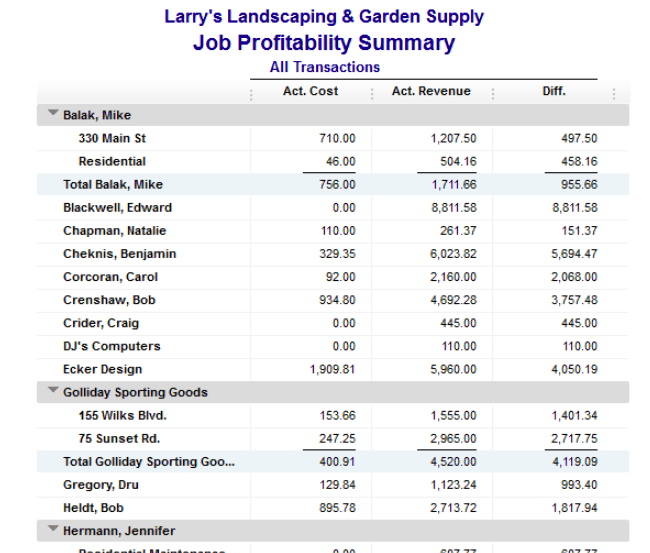 Time by Job Detail
QuickBooks Desktop Enterprise lets you track how many hours an employee spent working on a project. Information from this report can be used by managers to change or improve working hours if needed. For basic tracking, QuickBooks contains standard features for recording employee time. You may also want to use enhanced time tracking features for additional flexibility on reporting, job costing, and GPS tracking with the help of TSheets or QuickBooks Time. Check out our tips for using TSheets or QuickBooks Time to track time in QuickBooks.
Profit and Loss by Job
This report shows much profit you are making and how much you are losing on a specific job depending on the period you selected. This helps you determine which among your jobs bring you the most money and which ones need your attention.
These 5 essential industry-specific reports can get your construction business get headed in the right direction. In addition to these reports, QuickBooks Desktop Enterprise has special reports not available in the other QuickBooks Desktop products, including work-in-progress (WIP) reports and committed costs by job. To learn more about how QuickBooks Enterprise can help you grow your business, check out our article on the benefits of using QuickBooks Enterprise.